News story
Export bar on spectacular 150 year old British dressoir
Culture Minister supports effort to save prize-winning Modern Gothic Sideboard from export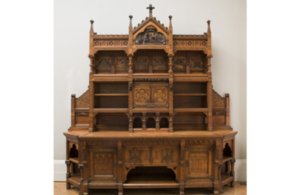 Culture Minister Ed Vaizey has placed a temporary export bar on a spectacular sideboard - or dressoir - in the Modern Gothic style, standing more than ten feet high and designed by the renowned Scottish designer Bruce James Talbert. It will be exported overseas unless money can be found to match the asking price of £485,000.
Talbert was a versatile designer of decorative arts, working first in the 'reformed' Gothic style and then in a more Jacobean manner in the 1860s and 70s. He was commissioned by Holland & Sons to design their stand for the Paris Exposition Universelle in 1867, of which the 'Pericles' dressoir was the centrepiece and where it won a silver medal.
The piece, made from oak inlaid with ebony and other woods, is embellished with Shakespearean quotations and illustrations on a dining theme such as 'Mirth becomes a Feast' from 'Pericles, Prince of Tyre' (hence its name). With its Classical iconography seen through the eyes of the greatest English playwright, the Pericles dressoir made a strong statement of British pride at the 1867 Paris exhibition.
The Minister has deferred granting an export licence for the piece following a recommendation by the Reviewing Committee on the Export of Works of Art and Objects of Cultural Interest, administered by Arts Council England. The Committee made their recommendation on the grounds that the dressoir was of outstanding aesthetic importance and significance for the study of Victorian furniture and the role of international exhibitions in promoting British Gothic design.
Culture Minister Ed Vaizey said:
"This is a splendid piece on a monumental scale, showing bold design and exquisite craftsmanship. Talbert was one of the greatest Gothic revival designers, and it would be regrettable indeed if this masterpiece were lost to the nation.
"I hope that serious efforts can be made to raise funds for a matching offer to keep the dressoir here where it belongs."
The decision on the export licence application for the dressoir will be deferred for a period ending at midnight on 30 November 2014. This period may be extended until 31 March 2015 if a serious intention to raise funds to purchase the piece is made at the recommended price of £485,000.
Published 1 October 2014