World news story
Explore Earnscliffe ahead of Canada 150
Canadians are invited to experience the history of the High Commissioner's residence, and celebrate Canada's special year during Doors Open Ottawa.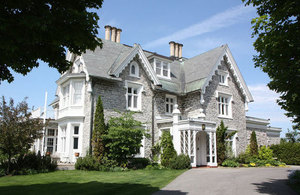 This year's Doors Open Ottawa marks the fourth consecutive year that British High Commissioner Howard Drake and his wife Gill Drake will be welcoming guests to their historic home, Earnscliffe. This renowned property, once the home of Sir John A. Macdonald, will open its doors from 10am to 4pm on Saturday 3 June.
Taking place just weeks before Canada celebrates 150 years since Confederation, this year is set to be a special event. Among the activities, guests are invited to register for an exclusive Canada 150 High Tea. There will also be a unique exhibit from the Canada Science and Technology Museum featuring a 1952 Bentley with an historical connection to the High Commission, and visitors may even spot a special guest from Earnscliffe's past roaming the halls.
British High Commissioner Howard Drake said:
Welcoming guests every year to Earnscliffe has been a real highlight for Gill and me. This year is especially significant as we join Canadians in celebrating Canada's 150th anniversary since Confederation from the home of the country's first Prime Minister.
Earnscliffe, built in 1855, was once the personal home of Canada's first Prime Minister, Sir John A. Macdonald. Originally built for local businessman John MacKinnon, Sir John A. Macdonald moved into the home in 1883. He lived there until his death in 1891.
Situated along the Ottawa River between Sussex Drive and the Macdonald-Cartier Bridge, Earnscliffe has been home to British High Commissioners to Canada since 1930. Since that time, the home has seen many upgrades, including a major restoration of the property by the UK government in 2013.
As always, guests will be guided through a tour of the home's main floor, including the Dining Room, Drawing Room, Study and Conservatory. Guests will also be able to visit The Sir John A. Macdonald suite, where the former Prime Minister passed away.
For guests interested in joining the Canada 150 High Tea, taking place at 11am and 1:30pm, please note advanced registration is required and space is limited.
Those planning a visit should be aware enhanced security measures will be in place during Doors Open Ottawa. They include:
the screening of all guests prior to entry

the use of a hand-held metal detector for secondary inspection

the full visual inspection of carried personal items
In order to keep wait times at security to a minimum we strongly recommend that you leave any unnecessary personal items in your vehicle or at home. Backpacks, large bags, and items such as pocket knives will not be allowed and we are not responsible for any items left outside the gate.
The house is also unable to accommodate large strollers and photography is permitted on the exterior grounds only. Smoking is not allowed on the property.
Further information
Follow the British High Commission on Twitter @UKinCanada
Follow the British High Commission on Instagram @UKinCanada
Follow the British High Commission on Facebook
Media enquiries
Trevor Kerr
80 Elgin Street
Ottawa Ontario K1P 5K7
Canada
Published 19 May 2017