Expert Group for Freedom of Expression on the Internet meets for first time
Foreign Office Minister Jeremy Browne opened the first meeting of the group, which was attended by experts from the legal, academic and media communities, NGOs and the business sector.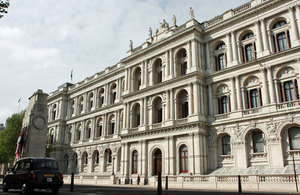 The Minister said:
"It was a pleasure to open the first meeting of the Freedom of Expression on the Internet Expert Group today. The internet has been one of the most powerful instruments of the 21st Century in encouraging freedom of expression. As we have seen with events that have taken place in the Middle East and North Africa the internet can empower individuals, and governments who try to restrict this freedom of expression ultimately risk being destabilised by it. Journalists, bloggers and others must be allowed to express themselves freely and safely on the internet and in line with international standards.
"I am confident that the group will make a significant contribution to this Government's commitment and determination to promote human rights. I thank all the members of the group for their participation and look forward to our next meeting."
The Foreign Secretary announced the formation of the Advisory Group on Human Rights in his 15 September speech entitled "Britain's Values in a networked world". A number of sub groups have been set up for particular human rights. The Freedom of Expression on the Internet Expert Group is focusing specifically on internet freedom issues, to ensure the FCO has the best possible information about recent developments and can benefit from outside advice on the conduct of our policy.
Published 20 July 2011