Expert family organisations to deliver parenting classes in 3 areas of the country from this spring
News about a trial of parenting classes starting in April in three areas of the country.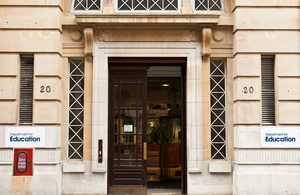 The National Childbirth Trust, Save the Children, and the Fatherhood Institute are some of the experienced family organisations who will deliver parenting classes in three areas of the country from this spring.
A coalition government trial starting in April will test out how to establish a new market in parenting classes for all parents. Over the next 2 years an offer of free universal parenting classes, face-to-face and online, will be available to all parents of children aged 5 years and under, in Middlesborough, High Peak in Derbyshire, and Camden in London.
The classes are designed to strengthen parenting skills, and to encourage parents to feel that it is normal to get help in the first few years of their child's life - just as they do in antenatal classes before their child is born.
The government wants the trials to stimulate the market and increase demand for parenting classes across the country. The providers will offer a mix of classes, catered to different groups of parents, informed by evidence of what works best.
All mothers and fathers in the trial areas with children five years and under will be entitled to a voucher covering the cost of a programme of parenting classes. Vouchers will be distributed by professionals working in the early years - for example, from nurseries, children's centres, midwives and health visitors.
Children's Minister Sarah Teather said:
Being a parent is one of the most important jobs you can do. Parents are the most important influence on a child's healthy development and future lives. We know from the demand for self help books and from speaking to mums and dads that they would welcome light touch key advice and support from time to time.
Most parents go to ante-natal classes before their child is born. We want parents to be able to seek help and advice in the earliest years of their child's life and for this to be a normal part of family life.
Unfortunately in some people's minds there is a stigma attached to asking for help or attending parenting classes. So we have chosen a wide range of expert organisations, with a good track record of reaching out to parents of all backgrounds. They will attract and engage parents through a mixture of face-to-face and online classes, and in a variety of community settings including schools and children's centres.
The settings for classes need to be attractive and convenient to parents, and offered in a variety of locations.
Fourteen providers are expected to lead delivery of the classes, some operating as a consortium with other partner organisations.
Six organisations will deliver the classes in all three areas:
National Childbirth Trust
Family Links
Save the Children
Fatherhood Institute
Solihull Approach
Race Equality Foundation (with Mumsnet)
Providers only in Camden:
Montessori St Nicholas
Mind Gym (Parent Gym)
Coram
City Literary Institute
Only in Middlesbrough:
Only in High Peak:
Derbyshire Council
Family Lives
Family Matters Institute
The providers will be paid on a delivery basis only - they will be offered a concession contract which allows them to claim reimbursement for delivering classes to a voucher holding parent.
Examples of classes include:
Save the Children Families working with Family and Schools Together (FAST), a non-profit organisation that originated in the US and designs and distributes family strengthening and parent involvement programs. FAST will provide face-to-face parenting classes delivered in schools in all three trial areas, hoping to reach approximately 2,500 parents. FAST has a strong rating from the National Academy for Parenting Research.
The National Childbirth Trust (NCT), a charity which helps parents in pregnancy, birth and early parenthood, and a well known provider of antenatal classes. NCT will offer five different courses for parents, delivered both face-to-face and online, including a baby specific course for parents with children under six months old. The courses will run over all three trial areas and will reach up to 3,000 parents over the course of the trial.
The department is also finalising a contract with a consortium led by Ecorys, including Parenting UK and Orion Security Print to provide project management support and data collection for the trial and help with producing and distributing the parenting class vouchers.
Notes to editors
The parenting classes will be open for booking in Camden from April this year, and in all three areas by the end of May.
Up to £5m has been made available for the trial between March 2012 and March 2014. This includes funding for redemption of parenting class vouchers; an independent evaluation; and the Local Support and Voucher Provider Services organisation.
Research for the Department for Education in 2006 (Parents Direct: Proof of Concept, GfK NOP Social Research) found that nearly three-quarters of parents want regular access to information and advice on parenting. These findings are echoed in figures from Avon Longitudinal Study of Parents (2009) who found that 75% of parents would like more information on parenting.
The classes are likely to cover:
how to promote positive behaviour with better communication and listening skills
managing conflict
the importance of mothers and fathers working as a team,
the appropriate play for age/development
understanding the importance of boundaries and routines to children
firm, fair and consistent approaches to discipline
strengthening positive relationships in the family
The three areas were chosen so that there was a good mix of locations and demographic spread across the country, with medium to high levels of deprivation. One area, High Peak, was chosen because it is also taking part in a trial to increase the number of health visitors working in children's centres.
The Local Support and Voucher Provider Services consortium is made up of: Ecorys, a research and consultancy organisation with previous experience of working across a range of sectors including health, transport, world finance and with not-for-profit organisations. They will have responsibility for overall project management, monitoring and data collection. Orion, leading the voucher development and distribution, has worked for high profile clients such as Manchester United and Glastonbury.
They will have responsibility for designing the vouchers and leaflets storage, distribution and redemption. Parenting UK, a national membership body for the parenting workforce with excellent knowledge of the sector, and established links with foundation years workforce, is leading the local support element of the trial. They will have responsibility for supporting the delivery of classes, and sharing knowledge and best practice.
DfE enquiries
Central newsdesk - for journalists 020 7783 8300
General enquiries - for members of the public 0370 000 2288
Published 28 March 2012