Expert chair appointed to the Office of Carbon Capture and Storage
16 December 2011 Patrick Dixon has been appointed as Expert Chair of the Office of Carbon Capture and Storage (OCCS), within the Department…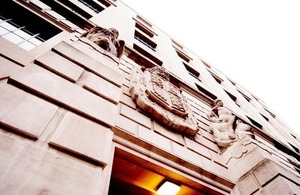 16 December 2011
Patrick Dixon has been appointed as Expert Chair of the Office of Carbon Capture and Storage (OCCS), within the Department of Energy and Climate Change, for a two year period, following an open and fair recruitment process.
Energy Minister Charles Hendry said:
"I am delighted that Patrick Dixon has been recruited to this important post. Patrick has significant relevant experience in the energy industry and I am very confident that he will make a major contribution working in partnership with Government and Industry to take forward the Carbon Capture and Storage (CCS) agenda."
The OCCS Expert Chair will be responsible for providing strategic and expert guidance to Ministers, DECC's Departmental Board and officials on OCCS objectives.
Industry and the wider CCS community, together with Government, will jointly play a crucial role in bringing CCS to cost competitive deployment. The Expert Chair will provide valuable independent expertise to inform and drive forward the Government's CCS programme.
Patrick Dixon said:
"I am pleased to be taking up this post and working alongside the OCCS team. I am very much looking forward to helping secure the development and delivery of CCS in the UK and elsewhere."
Patrick's appointment was announced today at an event with industry to discuss the next steps in the CCS programme.
---
Notes for editors
OCCS was established in March 2010 and sets the strategic path for the use of CCS, to develop and facilitate the delivery of the CCS programme, creating the policy and support arrangements to stimulate private sector investment and working with stakeholders to remove barriers to investment and development in the UK and globally.
Patrick Dixon worked for BP for 28 years. Until 2008 he was BP's Refining Vice President for the Eastern Hemisphere and had accountability for all BP's non-US refineries. After leaving BP he became a Non Executive Director of the Nuclear Decommissioning Authority, chairs their Board Safety and Security Committee and is a member of their Audit Committee.
The recruitment was undertaken on a fair and open basis and the appointment will be for two years with the possibility of reappointment. This is a part- time role.
Appropriate procedures have been put in place within DECC in order to deal with any conflicts of interest that may occur with this appointment.
Published 16 December 2011