Exhibition celebrates 'power of making'
Second display from V&A/Crafts Council partnership.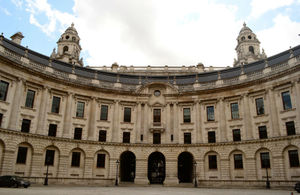 An exhibition celebrating the role of crafts and manufacturing in our lives has opened to the public today.
Power of Making, in the V&A's Porter Gallery, is a selection of more than 100 objects, ranging from unusual high-heeled shoes to the handmade puppets from the 2009 film Fantastic Mr Fox.
A recently-completed work by sculptor and Royal Academician David Mach - a giant gorilla made from metal coat hangers - is also on display in the V&A's Grand Entrance.
"This exhibition will celebrate the importance of traditional and time-honoured ways of making but also highlight the extraordinary innovation taking place around the world," said Exhibition curator Daniel Charny. "We aim to show how the act of making in its various forms, from human expression to practical problem solving, unites us globally. We hope the exhibition will inspire people and cause them to more thoughtfully consider the role of making in their lives, in their society, in commerce and in education."
Have a go
From car manufacturing to producing prosthetic eyes, the free exhibition will also showcase the process of making through documentary footage filmed at a range of studios and factories.
Visitors will be encouraged to try their hand at making through demonstrations and activities in the dedicated Tinker Space. People around the world will also be invited to upload short films about making to a dedicated website and a selection of the best entries will be screened.
Power of Making, which runs until 2 January 2012, is the second exhibition in the V&A/Crafts Council partnership.
Further information
Published 13 September 2011