Exercise Joint Warrior concludes
The two-week, tri-Service exercise, Joint Warrior, which saw thousands of troops from five nations converge in Scotland, drew to a close last week.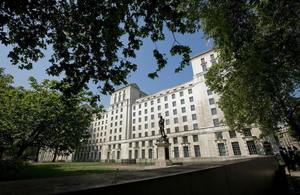 One of the largest military exercises in Europe so far this year, it included participants from the UK, USA, Germany, the Netherlands and Norway. It was designed to develop the ability of aircraft, warships and submarines to operate as part of a multinational task group in a complex and demanding operational environment.
Joint Warrior saw troops from the UK's Navy, Air Force and Army take part in numerous scenarios with their international cousins, including parachute drops and amphibious landings across Scotland utilising areas such as Ailsa Craig and West Freugh.
Just under half the 8,000 personnel involved in Joint Warrior were drawn from the Royal Navy and Royal Marines.
Amongst the vessels involved in the exercise were Royal Navy minehunters. Dummy mines were cleared by HMS Enterprise, HMS Bangor, HMS Atherstone, HMS Brocklesby, HMS Grimsby, HMS Blyth and HMS Shoreham.
The minehunters were supported by the frigates HMS St Albans and HMS Monmouth, as well as the United States' Arleigh Burke Class destroyer USS Forrest Sherman.
The training - appropriately known as a 'swarmex' (swarm exercise) - saw the ships operating in close proximity and at high speed to defend themselves.
The smaller ships of the task group were protected and safely escorted through a chokepoint off the west coast of Scotland, with air defence provided by Royal Navy Lynx and Merlin helicopters from the Fleet Air Arm.
Joint Warrior tested all the troops involved, including those on board HMS Illustrious. During the exercise the UK's high readiness helicopter and commando carrier welcomed Apache strike helicopters from 656 Squadron Army Air Corps, Fleet Air Arm Merlin helicopters from 814 Naval Air Squadron, and Sea Kings from the Commando Helicopter Force.
Between raids ashore the hangar was also busy with the Royal Marines of 45 Commando.
As things heated up during the final phase of the exercise, Illustrious had the opportunity to test her ability to embark the Joint Task Force Commander and Headquarters Staff. This meant that, at the height of the exercise, HMS Illustrious was home to around 1,150 sailors, Royal Marines, soldiers and airmen.
The Commanding Officer of HMS Illustrious, Captain Martin Connell, said:
This has certainly been a busy and challenging exercise during which HMS Illustrious, her crew and those embarking for the exercise have been tested to their limits.

I am very pleased to say that everybody on board, regardless of which Service they are from, has worked together extremely well to achieve the maximum benefit from Exercise Joint Warrior.

HMS Illustrious is now fully ready for whatever may come her way over the next two years.
Army Staff Sergeant Jim Docherty is a crew chief maintainer for the Apache helicopters on board HMS Illustrious. He said:
Working closely with the ship's crew is essential, as the hangar and flight deck of [HMS Illustrious] have much less space than an airfield. Really careful planning has to go on to ensure that the right helicopter is in the right place at the right time.
Helicopters from three Fleet Air Arm squadrons, divers, medics, the headquarters of 3 Commando Brigade, and the steel sword of 45 Commando were all also committed to the two-week-long war game.
More than 400 green berets from Arbroath-based 45 Commando took part in the exercise, which will be their 'final validation' before taking over as the principal Royal Marines unit ready to deploy anywhere in the world at immediate notice.
Having carried out 'wader' training - where the commandos practised helicopter and landing craft insertions - 45 Commando stepped things up with company-sized raids on 'enemy bases' around western Scotland, culminating in a full-scale landing involving the entire unit on the beaches of West Freugh, south of Stranraer, supported by Apache, Sea King and Merlin helicopters and a variety of amphibious landing craft from HMS Bulwark and RFA Mounts Bay.
Commanding Officer of 45 Commando, Lieutenant Colonel Mike Tanner RM, said:
This exercise validates us as the UK's Very High Readiness Group and allows us to train with the ships, helicopters and landing craft that make up the Maritime Response Force. It has prepared us for operational contingency deployments anywhere.
Later this year, 45 Commando will deploy to the Mediterranean with HMS Illustrious for Exercise Cougar 12, which will see the Royal Marines operating with a multinational task force as they carry out joint amphibious training.
Read more about Exercise Joint Warrior and some of the others units involved, including RAF Leeming's 100 Squadron and soldiers from 16 Air Assault Brigade.
Published 3 May 2012