Ex-service personnel to become mentors to young people
Ex-service personnel will be fast-tracked into schools to help young people achieve.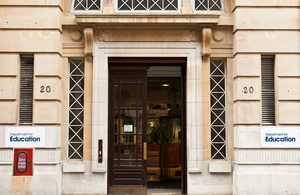 Former members of the armed forces will become mentors to young people in schools across England following a £1.5 million grant to the charity SkillForce, Education Secretary Michael Gove announced today.
Through three pilot programmes, ex-service personnel will be fast-tracked into schools, using the skills and experience gained on the frontline to help young people achieve. SkillForce will be funded to set up the three programmes from September 2011:
Military to Mentors: 100 ex-service personnel will be trained to work as mentors for young people in and out of schools across England. SkillForce will work alongside two other organisations – Endeavour and the Knowsley Skills Academy on this programme.

Zero Exclusion Pilot: SkillForce will provide intensive support to 100 young people at risk of exclusion from school. This will take place in five regions across England (areas to be confirmed), over a 12 month period.

Expand SkillForce Core Programme: investing in the existing SkillForce programme that uses teams of instructors from military backgrounds to work with disadvantaged young people, helping them gain qualifications. Over a year, the charity will support 340 additional young people from parts of the country with high unemployment and deprivation. Part of this will include elements of the Zero Exclusion pilot.
Michael Gove, Secretary of State for Education, said:
There is a huge opportunity for those people who have served their country in uniform to serve their country in our schools. They have many of the virtues that parents across the country feel have disappeared from our schools and need to be restored: self-discipline, a sense of purpose and a belief in the importance of working as a team.

That is why I want to offer people leaving our Armed Forces an opportunity to enter the classroom, and I am delighted to support SkillForce in doing so. Ex-Service personnel will act as inspiring role models for the next generation. They will help to instil in young people, often from some of the most disadvantaged backgrounds, discipline, self-respect and a sense of purpose.
Peter Cross, Chief Executive of SkillForce, said:
SkillForce is delighted to be asked to expand its work with disadvantaged young people. Our programmes effect positive and permanent change in their lives as evidenced by 60 per cent on Free School Meals going into Further Education compared with nine per cent nationally. The use of former military mentors enables them to serve their communities following a first career of service to their country.
Dr Liam Fox, Secretary of State for Defence said:
The men and women who have served in Britain's Armed Forces have a great deal to offer their local communities. The SkillForce programme is a great example of Big Society in action and will allow former Service personnel to make a real difference to young peoples' lives. At the core of our Armed Forces are the values central to a successful society such as loyalty, self discipline and motivation. I am certain that the nation's children will thrive under the mentorship of these courageous individuals.
DfE enquiries
Central newsdesk - for journalists 020 7783 8300
General enquiries - for members of the public 0370 000 2288
Published 28 February 2011