Evidence Presentation System to be rolled out to Crown and magistrates' courts
New system will replace Clickshare for use in presenting multi-media evidence in court.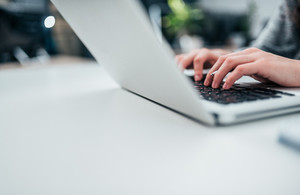 From Monday 15 February 2021, the Evidence Presentation System (EPS) will begin rolling out to Crown and magistrates' courts, replacing the existing device used in courtrooms to present multi-media evidence, Clickshare, for which technical support will end in April.
The EPS technology, which can be provided through a cable or wirelessly through wifi, was successfully tested at Guildford Crown Court in November 2020 and has been approved for wider introduction as a solution by the Senior Presiding Judge, with the Bar Council also expressing support.
A wired and wireless solution will be introduced across courtrooms in Crown Courts, with wifi only in magistrates' courts due to more common physical limitations.
Work will begin to replace Clickshare equipment firstly in Crown Courts which is due to complete by the end of April 2021, before proceeding to the magistrates' courts where completion is scheduled for the end of July 2021.
During this transition period, we do not anticipate any disruption to court business and any installation work will be undertaken out of hours. HMCTS will continue to support the use of Apple devices with Clickshare until the EPS rollout is complete, and users should speak to court staff if they encounter difficulties with their device in the interim.
User guides will be made available and the Clickshare web pages will be replaced with the new EPS guidance during the rollout.
Should you have any questions about the replacement, please contact the Courts and Tribunals Development Directorate at CTDD-CrimeSupport@Justice.gov.uk.
Published 4 February 2021