Press release
Evesham to benefit from new £8.2 million bridge
Final approval to replace the Abbey Bridge over the River Avon in Evesham.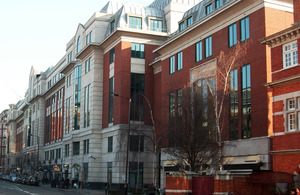 Work to replace the Abbey Bridge over the River Avon in Evesham can now start after the proposals received final approval from Local Transport Minister Norman Baker today (12 November 2012).
The bridge and viaduct need to be replaced as they are in poor condition and the current structures are already subject to a 7.5 tonne weight restriction. If the structures are not replaced then even lower restrictions would be needed in the near future along with the possibility of full closure to all traffic soon after.
When completed, the new bridge will allow the current weight limit to be removed bringing the bridge up to current national standards and allowing it to be used by HGVs, coaches and buses. The replacement bridge will improve access to Evesham town centre from the south for local residents and businesses.
Norman Baker said:
This excellent scheme will restore the full capacity of this important route and provide a boost to the local economy by ensuring that access to the town centre for bus passengers and lorries is maintained.

The £5.6 million we are putting into this project shows that the coalition government is serious about investing in the infrastructure the country needs to drive economic growth both locally and nationally.
The Abbey Bridge replacement scheme was one of the schemes given funding approval last year as part of the spending review process. Work can now start on construction with the new bridge scheduled to open in December 2013.
Notes to editors
Today's (12 November 2012) announcement grants full (final) approval to the Abbey Bridge replacement scheme enabling work to begin.
The scheme, promoted Worcestershire County Council, is scheduled to open in December 2013.
The department will provide a maximum of £5.59 million towards the full scheme cost of £8.2 million.
Roads media enquiries
Media enquiries 020 7944 3021
Out of hours media enquiries 020 7944 4292
Switchboard 0300 330 3000
Published 12 November 2012