Events mark 50th Anniversary of military legacy in Wales
VIP guests from Germany gathered at a Welsh military training range to inspect the German Army's legacy which still helps British soldiers prepare for operations five decades after it was established.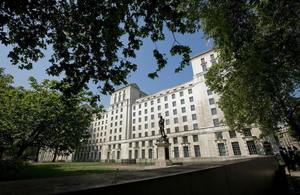 The distinguished visitors joined local councillors and other dignitaries to mark the 50th Anniversary of the Bundeswehr's association with Castlemartin training range, near Pembroke, which is run nowadays by Defence Infrastructure Organisation (DIO).
The German army set up a training facility at Castlemartin, a facility which is still used to this day. The site is now a key part of the Defence Training Estate (DTE), which helps the UK's Armed Forces prepare for operations.
Celebrations to mark the anniversary included a service at St Mary Warren church; a reception jointly hosted by the German Castlemartin Association, Warren Church Trust and DIO; a civic reception at Pembroke Town Council; and a concert by the band of the Prince of Wales Division.
Colonel Richard Howard-Gash, Commander DTE Wales and West, said:
Defence Infrastructure Organisation's top priority is to support our Armed Forces in preparing for operations. The facilities established by the German military here in Castlemartin enable us to do just that some 50 years after being set up.

The Bundeswehr has been a part of the local community since their arrival in 1961. They have made a huge contribution to local life and the economy over the years.

I'm delighted to have been able to support the 50th Anniversary celebrations together with the German Castlemartin Association, the Warren Church Trust and Pembroke Town Council.
Key VIPs attending were Helga Rother-Simmonds, Honorary Consul for Germany in Cardiff/Wales, and her husband Neil, as well as the German Military Attache, in London Colonel Michael Haller and his wife Connie.
The Bishop of St David's the Very Rev Wyn Evans gave the sermon at St Mary Warren church and emphasised the courageous decision in 1961 to let the Federal German Army (FGA) train with tanks in Pembroke some 16 years after the Second World War.
Pembroke Mayor Aden Brinn spoke of the warm relations between Pembroke and Germany as a result of FGA training and the resultant twinning of Pembroke and Bergen Hohne, whilst Deputy Lord Lieutenant George Hancock recounted the history of the anniversary.
Helga Rother-Simmonds, Honorary Consul for Germany in Cardiff/Wales said:
I had a most interesting and enjoyable visit to Castlemartin and wish to personally thank Richard Howard-Gash and his team for their kind welcome, hospitality and kindness. We had a fabulous time and our visit will be a memorable one.
Published 23 June 2011