News story
Events map live for National Apprenticeship Week 2015
Our online events map, used to track National Apprenticeship Week 2015 activity, is now live.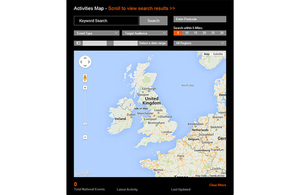 National Apprenticeship Week runs from 9 to 13 March, and all over the country businesses, schools, colleges and training organisations will be holding events and hosting activities.
In addition, Ministers, MPs and senior government managers will be out and about throughout the week taking part in as many events as they can, visiting businesses and talking to apprentices.
We are using our online events map again to track all of this exciting activity, so you can see at glance what is going on near you.
If you are running an event for National Apprenticeship Week, why not submit information using our online form so that we can include it on the map and let everyone else know what you are doing?
The objective of National Apprenticeship Week 2015 is to increase awareness and take-up of apprenticeships and traineeships and the overarching theme for National Apprenticeship Week 2015 is a challenge to us all to think about how much we really know about apprenticeships.
Find out more and encourage key partners to download toolkits and get involved in National Apprenticeship Week 2015. Toolkits are now available to download on GOV.UK.
Published 9 February 2015