Europe's largest immigration removal centre
The opening of two new wings at Harmondsworth Immigration Removal Centre (IRC) will make it Europe's largest, Damian Green announced.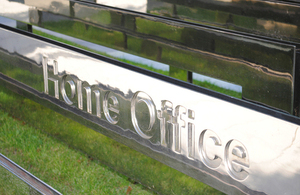 The unveiling of additional detention space comes as the UK Border Agency is intensifying enforcement activity across the country to crackdown on illegal working, sham marriages, bogus colleges and organised immigration crime.
The new high security accommodation is ready for use, and at full capacity it will house 364 of the UK Border Agency's most difficult detainees, significantly enhancing the new government's ability to remove foreign criminals from the UK.
Home Office minister's statement
Immigration minister Damian Green said:
'I am pleased to be able to open the new wings at Harmondsworth today, which make it Europe's largest detention centre and a welcome addition to the UK Border Agency's estate.
'It will provide 364 new bed spaces, increasing our capacity to remove people with no right to stay in the UK.
'The beds will be used for some of the most challenging detainees the UK Border Agency holds, the vast majority of whom are former prisoners who have committed serious offences. I believe foreign criminals should be sent home at the earliest opportunity, and today we have taken another step in that direction."
Should be fully occupied soon
The first detainees were accepted earlier this month, and the current plan is that it will take approximately seven to eight weeks to have the new accommodation fully occupied.
Already under the new government, there have been more than 1900 failed asylum seekers and more than 990 foreign national prisoners removed from the UK.
After opening the new wings, the minister visited Heathrow Terminal One to see the frontline checks in place at the border, including anti-forgery equipment and drug detection scanners.
Border security is a priority
On visiting Britain's busiest airport, he added:
'Keeping Britain's border secure is a priority for this government - which is why it is crucial that we have vigilant border staff utilising the latest technology in our fight against the people traffickers, drug smugglers and illegal immigrants determined to come here and cause harm.'
During his visit, he met frontline UK Border Agency staff, was given a demonstration by detection dogs, and watched as officers used the latest technology to search bags for hidden, smuggled substances. 
Notes to editors 
Harmondsworth IRC opened in 2001. Disturbances at the centre in November 2006 led to two wings being burnt down, which today have been rebuilt to Prison Category B standards.
The new accommodation will provide 364 bed spaces for single men. It makes Harmondsworth the UK Border Agency's largest IRC with more than 600 bed spaces in total.
Already under the new Government, there have been more than 1,900 failed asylum seekers and more than 990 foreign national prisoners removed from the UK. Please note these statistics are management information and subject to change.
Technology at Heathrow:
Conpass – A low-dose radiation body-scanner used on passengers who are suspected of concealing packages. The dose is far less powerful than a traditional x-ray and is in place across Heathrow
Iontrack & Ionscan – These machines analyse swabs taken from a passenger's baggage to detect traces of Class A drugs
Secure ID – This provides the front line with the capability of matching individuals to biometric visas issued, through verification of fingerprints
Cyclamen – This is a joint Home Office / UK Border Agency counter-terrorism initiative. It screens passengers for the presence of nuclear and radiological materials. Cyclamen capability is at the forefront of cutting edge technology, ensuring that the UK is actively deterring and detecting the illicit importation of radiological and nuclear material at points of entry
forgery detection – A range of techniques including powerful magnifying equipment, UV light machines and special machines, allow officers to look at documents in different light sources
detection dogs – There are 13 detection dogs at Heathrow who search for a range of materials and substances: tobacco, cash, drugs and products of animal origin
Published 2 August 2010