European Embassies mark Climate Diplomacy Day in Guatemala
To mark International Climate Diplomacy Day several activities around the world have taken place that includes events to generate greater awareness, encourage an informed debate and promote a joint response to climate change.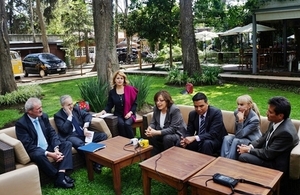 EU Member States in Guatemala held a press conference to address the issue.
Representatives of the European Union delegation to Guatemala and the embassies of Germany, France and the United Kingdom, together with environmental experts and decision makers, answered questions from the press about the projects carried out in Guatemala and implemented to tackle climate change.
The press conference outlined the following points about climate change:
Climate change is a massive threat to global security and prosperity.

It is essential to achieve a comprehensive, fair and effective international climate change agreement at the Conference of the Parties (COP21) in Paris on December this year.

Developed economies should present their goals in the fight against climate change (climate change goals) to show their commitment and inspire others to join the fight.

Mitigating the risk of climate change through the transition to a global economy with reduced carbon emissions represents a great opportunity for innovation and job creation.

The threat is latent, sustainable development is everyone's responsibility. We have to operate together.

During the G7 Summit, held in June in Germany, the member countries decided to boost the fight against climate change by agreeing that the increase in global temperature should not exceed two degrees Celsius above pre-industrial levels, as it was requested at the Copenhagen summit in 2009.

In addition, the CELAC-EU Summit held in Brussels last week, discussed measures to respond to climate change.
Guatemala is a strong UK partner on efforts to meet the growing global demand for a low-carbon future. UK ministries such as the Department for Environment, Food and Rural Affairs (DEFRA) and its Darwin Initiative programme, and the Department for International Development (DFID), have invested in several environmental projects in Guatemala that include the protection of the Mayan biosphere, conservation of Guatemala's Caribbean coastline and preservation of the country's most precious wildlife.
Published 18 June 2015