European Council unites over Libya, Japan and economic growth
Prime Minister David Cameron has hailed the "real European unity" shown at the European Council as they discussed the mission to protect people in Libya and sent a "clear message of solidarity to the Japanese people"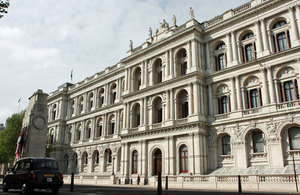 At the two-day summit, Mr Cameron also said he had made good progress in translating Britain's budget for growth into a "new agenda for the European economy".
European economic growth
Following the recommendations in a joint letter from the Prime Minister and eight other EU leaders, the PM said that the European Council had agreed "that 'the single market has a key role to play in delivering growth', and that we should bring new impetus to our efforts to complete it".
The summit also agreed that the overall regulatory burden should be reduced, and concluded that the Doha round and other powerful free trade agreements should be continued in 2011.
The Prime Minister said:
"Obviously, there is more that needs to be done, but I do believe this is a strong start. I was particularly heartened on the language there will be on micro-enterprises and exempting micro-enterprises from future regulations for their first five years of existence."
Libya
On Libya, the Prime Minister said that the situation has "come a long way in a short time". He said:
"The action we have taken in the space of a few short days has saved countless civilian lives and has successfully established a no-fly zone. In the last 24 hours, the momentum has continued to build. NATO has taken on the command to control of the no-fly zone, in addition to the arms embargo that it was already enforcing."
He added that "it is clear that European countries are now fully on board with this mission" and had "agreed to find ways to support the Libyan people's aspirations for more democratic and open government."
Next Tuesday Britain will be hosting a broad international conference in London to review progress and to plan for the future.
Mr Cameron paid tribute to all of those involved in enforcing the no-fly-zone for their "incredible skill and their courage".
Japan
On Japan, Europe has made the same pledge as the Prime Minister made to the Japanese Prime Minister yesterday; to "do all we can to speed Japan's recovery from the earthquake and the tsunami of two weeks ago". The Prime Minister said:
"I believe one of our priorities in order to demonstrate good faith must be to invite Japan to enter into a free-trade area with the EU, which would help boost their economy and help their businesses to recover. I secured a specific reference to that in the conclusions [of the summit] that will be published later."
Published 25 March 2011