European Council concludes in Brussels
Prime Minister David Cameron represented the UK at the European Council on 28-29 October.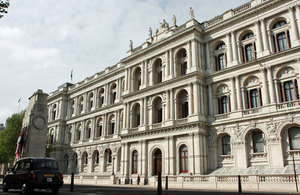 The European Council endorsed a report on the Task Force on economic governance, discussed preparation for the G20 Seoul Summit and the Cancun Conference on climate change as well as the summits with the US, Russia and Ukraine.
Read the full Council conclusions
Earlier in the council, Prime Minister David Cameron published a joint statement at the European Council, signed by 11 countries, on the proposed increase of around 6% to the 2011 EU budget.
"These proposals are especially unacceptable at a time when we are having to take difficult decisions at national level to control public expenditure.
The Council has proposed an increase in EU budget spending of 2.91% for 2011. We are clear that we cannot accept any more than this."
Foreign Secretary William Hague discussed the statement on BBC Radio 4's Today programme this morning:
"What the Prime Minister has now secured among the heads of government is more than enough allies to make sure that the proposals of the Commission of Parliament are rejected and that the rise is limited to 2.9%.
And that for us is the beginning, as you can tell from what I'm saying, of… now a much longer road over the next 18 months to get some real sense into how the European budget is set for the longer term."
Published 29 October 2010