World news story
Minister for Europe in Ankara
Minister for Europe, David Lidington, is in Ankara between 24-26 February. His programme includes calls on the Turkish Justice and Europe Ministers.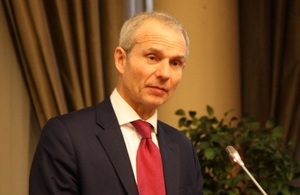 Accompanied by a large business delegation on 25 February, the Minister spoke at a nuclear energy conference this morning. The Minister highlighted the UK's readiness to work with the Turkish Government and local companies as they look to expand Turkey's civil nuclear infrastructure. The Minister said:
Today's focus is of course on cooperation in the field of civil-nuclear energy. From exchanges with Turkish energy experts, I understand that Turkey relies heavily on energy imports, and I applaud the Turkish government's investment in a range of new technologies and sources to diversify Turkey's energy supply.
Turkey's energy requirements are increasing three times faster than the global average, with demand increasing faster than all OECD countries. In fact such is the demand for energy here that it is estimated Turkey will need $ 120 billion in private-sector energy investments by 2020.
The UK is particularly well placed to share with Turkey the technical expertise needed to deliver this level of investment.
So there is a great deal of business to be done between UK and Turkish firms in the civil nuclear sector. This all takes place within the framework of the Strategic Partnership signed by the Prime Ministers of our two countries in 2010. This set out a long term commitment and agenda for co-operation between our two governments that can support the commercial partnerships under discussion today.
By working together the UK and Turkish firms represented here today can help to build energy security and prosperity for future generations.
Published 25 February 2014