World news story
EU-Ukraine free trade area explained: expert briefing for media
A British international trade policy expert explained the benefits of the EU-Ukraine Deep and Comprehensive Free Trade Area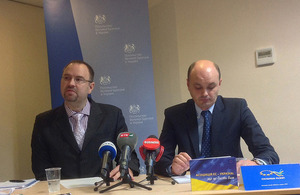 On 8 October, the British Embassy Kyiv hosted a media briefing with the British international trade policy expert, Mark Hellyer, who spelled out the benefits that EU-Ukraine Deep and Comprehensive Free Trade Area (DCFTA) would bring for Ukraine in the short- and long-term perspectives, as well as the next steps that the Ukrainian government and business would need to take in order to ensure its smooth implementation.
Outlining the main benefits of the DCFTA, Mark Hellyer pointed out that it would allow Ukrainian business to trade more easily with the EU. In particular, it would:
give better access to a market of over 500 million consumers
help improve the business climate in Ukraine, creating more certainty and transparency and therefore reducing business risk
help increase efficiency and competitiveness of Ukraine's industries
provide Ukraine with cheaper and safer products both imported and locally produced
The British expert also spoke about some specific provisions and implications of the DCFTA for Ukraine, eg:
in the first year of implementation, Ukrainian exporters will benefit from the removal of 97% of duties on Ukrainian goods and reduction of the average tariff on Ukrainian exports from 7.6% to 0.5%, while Ukraine will reduce its average tariff for European exporters from 5.0% to 2.4%
products certified in Ukraine will be treated equally on the EU market
Ukrainian producers will have 7 years to gradually adopt EU standards and invest in modernisation
Ukrainian business will be able to bid for $2.5 trillion worth of EU public procurement contracts on a par with other EU companies – after it adopts EU rules
Mark Hellyer concluded, saying that
Benefits will not happen automatically and without some cost. Business would need to invest in modernisation and standards. But the short- and longer-term opportunities will exceed this cost: Ukrainian business will trade more on EU markets and the consumer will benefit from greater choice, cheaper and higher quality products.
Further information
Find out more facts and figures in Selling to the EU under the DCFTA publication.
Mark Hellyer is a director for and a lead adviser at CTA Economic&Export Analysts Ltd., with over 15 years of experience in developing trade policies throughout the world. He worked closely with Ukraine on international trade negotiations and WTO accession (within technical assistance projects funded by the UK government, the European Commission and the World Bank). Recently he was closely involved in the EU-Ukraine DCFTA negotiations (within a project funded by the British Embassy).
CTA Economic&Export Analysts Ltd., with the support from the Ministry of Economic Development and Trade of Ukraine, is currently implementing a project "Promoting the Ukraine-EU DCFTA to Ukrainian government, business and wider society', funded by the British Embassy Kyiv."
This event is part of the series of expert-based media briefings under the information campaign Stronger Together which aims to raise awareness of the benefits of Ukraine's closer association with the EU. The calendar of Stronger Together events for September-December 2013 can be found here. The forthcoming talks by British experts on regional development and state aid will be held on 6 November.
Published 9 October 2013