EU Ministers agree further sanctions on Iran
Foreign Secretary William Hague said that the decision to impose further sanctions on Iran demonstrates the EU's growing concern about the country's nuclear programme.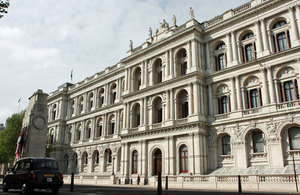 Speaking today the Foreign Secretary said:
"Today's action demonstrates the EU's growing concern about Iran's nuclear programme, and our determination to increase peaceful, legitimate pressure on Iran to return to negotiations.
It is action made necessary by Iran's defiance of six UN Security Council Resolutions and its refusal to enter negotiations over its nuclear programme. Iran's recent decision to commence 20% enrichment at its underground site at Qom shows that it continues to choose a path of provocation. This is an enrichment programme that has no plausible civilian use, in a site that the Iranian authorities hoped to keep secret.
We call again on Iran to answer the serious questions raised by the International Atomic Energy Agency, to adhere to UN Security Council Resolutions and to suspend its enrichment programme in accordance with them. Iran has it in its power to end sanctions by changing course and addressing the concerns of the international community. We are ready to talk at any point if Iran puts aside its preconditions. Today's sanctions show how serious EU member states are about preventing nuclear proliferation and pressing Iran to return to the negotiating table. We will urge other nations across the world to implement similar measures and to increase the impact of the measures the EU has adopted".
Published 23 January 2012