EU intensifies sanctions on Iran
Foreign Secretary William Hague welcomed the EU intensification of sanctions on Iran.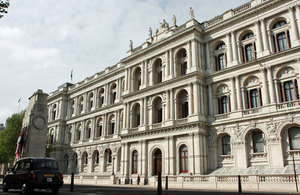 Speaking after the Foreign Affairs Council in Brussels, the Foreign Secretary said:
"Today the EU took further important steps to intensify existing sanctions on Iran and press the Iranian government to enter meaningful talks on its nuclear programme.
"The UK has played a key role in securing the addition of over a hundred new entities to EU sanctions lists because of Iran's refusal to address the international community's concerns. The entities include banks, individuals, shipping entities, engineering companies and organisations owned and controlled by the Iranian Revolutionary Guard Corps. Today's action will help to prevent Iran from acquiring material and finances for its illegal activity.
"Iran's continued refusal to enter constructive talks was confirmed in its reply to Baroness Ashton's letter, which contained nothing new to indicate Iran was serious about negotiating. As I have said before, the door for dialogue remains open, but until Iran recognises that it must engage positively we will continue to take further steps.
"Iran should not doubt our resolve: its brutal crackdown on its people, support for repression in Syria and assistance to militant groups across the region have only increased our desire to prevent it obtaining a nuclear weapon".
Published 23 May 2011