News story
EU Foreign Ministers discuss Ukraine
Foreign Secretary William Hague attended the informal EU Foreign Ministers meeting in Athens to discuss the situation in Ukraine.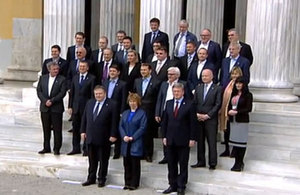 Speaking to media before the EU Foreign Affairs Council meeting in Athens today (4 April) the Foreign Secretary William Hague said:
It is important to keep strength and unity in the European Union on recent events particularly in Ukraine.

It is important to continue to make clear that what Russia has done in violating the independence and sovereignty of a neighbouring nation state can not be something that is accepted in Europe in the 21st century.

It's important for us to continue to discuss what we do in the future to reduce Europe's energy dependence on Russia to make sure that we change the balance of leverage between Russia and the EU in the future.

It's very important for us to remain strong and united about the sanctions that we have implemented against individuals in Russia and Crimea and to prepare more far reaching measures if they becomes necessary.

It's also important for us to assist Ukraine. The first stage of IMF program has made a great deal of progress but there is more that the European Union can do to assist Ukrainians to be able to be free to determine their own future and for elections to go ahead on the 25th May in Ukraine as planned. I'm looking forward to discussing what more we can do on that and the assistance we can give to Moldova and Georgia to get their association agreements with the EU signed as early as possible.
Further information
Read the latest updates on the government's response to the situation in Ukraine
Follow the Foreign Secretary on twitter @WilliamJHague
Follow the Foreign Office on twitter @foreignoffice
Follow the Foreign Office on facebook and Google+
Published 4 April 2014