EU Foreign Ministers discuss situation in Egypt
The EU Foreign Ministers urge the Egyptian authorities to seek a peaceful and constructive way forward based on a serious and open dialogue with all political forces.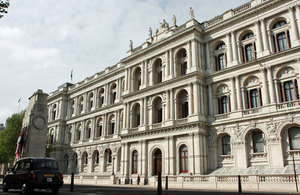 The Foreign Ministers of the 27 EU member states met in Brussels today for the Foreign Affairs Council. Full council conclusions are on the Council website.
The Foreign Office advise against all but essential travel to Cairo, Alexandria, Luxor and Suez. We recommend that British nationals without a pressing need to be in Cairo, Alexandria or Suez leave by commercial means where it is safe to do so.
Speaking earlier today the Foreign Secretary advised British nationals either in or considering travelling to Egypt to check the Foreign Office advice closely and keep in touch with tour operators. He said that the Red Sea resorts have been calm.
"We've heard from our Honorary Consul there this morning and the situation remains the same and remains calm, we've worked on contingency plans with the tour operators should the situation there change. The problems are much greater in Cairo and Alexandria and Suez. In particular there are problems getting people through Cairo Airport and so we have sent our own Rapid Deployment Team there. We have staff working very hard there to assist British nationals in an orderly and practical way to be able to leave the country."
The Foreign Secretary said he was concerned that violence would continue over the next few days.
"We've stated those concerns to the Egyptian Government. We've asked them to avoid violence in dealing with demonstrations. Equally we call on the Egyptian people to demonstrate without resort to violence".
On the international response, the Foreign Secretary said:
"We've been in close touch with our colleagues in the United States. The Prime Minister talked to President Obama and I talked to Secretary Clinton last night and together we have called for an orderly Egyptian led transition to real and visible reform, to a more broadly based Government, to free and fair elections in Egypt. This reform is the way forward - not repression."
Prime Minister David Cameron said Egypt "must go down the path of reform and not repression… we want the response of the Egyptian government to be… a proper, orderly transition to a more democratic situation where there are greater rights, greater freedoms, a better rule of law, and that sort of reform to show to people in Egypt that their concerns and their aspirations are being listened to… We are not saying who should run this country or that country, but… in the conversations we've had with President Mubarak and others, I think it's sensible to say that you do have a choice here".
He commented that the Egyptian government should explain to the people that "we hear your concerns, we understand your aspirations, we know you want greater rights, greater freedom, greater democracy, and we're going to have an orderly transition in Egypt to give you that".
Minister for the Middle East Alistair Burt updated Parliament on the consular and political situation in Egypt today.
Published 31 January 2011