News story
EU Foreign Affairs Council meeting on Ukraine
William Hague: The UK will not recognise the Crimea referendum that took place yesterday (16 March) as legal or legitimate.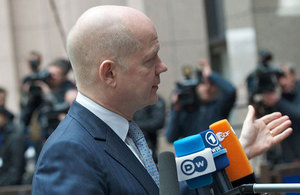 Speaking on his way into the EU Foreign Ministers meeting on Ukraine this morning (17 March), Foreign Secretary William Hague said:
The United Kingdom in common with the rest of the European Union will not recognise the Crimea referendum that took place yesterday as legal or legitimate or meaningful. Any referendum that is called at a matter of days notice, has no proper campaigning, no access to the region for the leaders of the country, the presence of tens of thousands of troops, is never going to enjoy credibility in the eyes of the great majority of the rest of the world.

I think that was very clear at the United Nations Security Council on Saturday where Russia vetoed the resolution that many countries supported, but was alone in doing so. Even China abstained at the security council on Saturday. As a result we propose to move to a further stage of the European response today with travel bans and asset freezes on individuals. That's one of the things that we will be discussing today. I am confident that we will reach agreement on that. At the same time, every diplomatic channel remains open to Russia and we continue to be in communication with Russia about creating a diplomatic framework, about finding ways to deescalate this crisis. It's important that work goes as well on over the coming days.
Further information
Read the latest updates on the government's response to the situation in Ukraine
Follow the Foreign Secretary on twitter @WilliamJHague
Follow the Foreign Office on twitter @foreignoffice
Follow the Foreign Office on facebook and Google+
Photo Credit: The Council of the European Union
Published 17 March 2014