EU announces unprecedented sanctions against Iran
At the Foreign Affairs Council in Brussels today, the EU announced an unprecedented package of sanctions in response to concerns about the Iranian nuclear programme.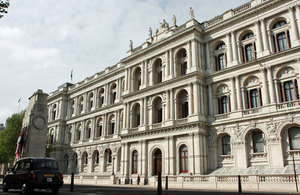 Today's announcement follows the recent UN Security Council resolution 1929 on sanctions for Iran, and introduces even stronger measures. The package of sanctions agreed today includes restrictions on the oil and gas industries in Iran, as well as new limitations on the finance, transport and trade sectors. They are all aimed at increasing pressure on the Iranian regime, so they finally start serious negotiations on the core issue of their nuclear programme, to stop the provision of technology, equipment and financial support needed by Iran for their nuclear programme.
Announcing the sanctions, Foreign Secretary William Hague said:
"The message to the Iranian Government could not be clearer: the longer it refuses to talk to the E3+3 about its nuclear programme, the greater the pressure and isolation Iran will bring upon itself. But Iran does have a choice: the UK and the international community stand ready to engage, and still believe that the way forward on this issue is multilateral negotiation.
"Iran is a country with a young, well-educated and creative population and rich resources. It is a country with the potential for success and prosperity, and of being an influential voice in the international community. We stand ready to respond to Iran choosing to discuss its nuclear programme and grasping the successful future such a choice would bring."
Published 26 July 2010