EU-Africa Summit in Tripoli
Henry Bellingham MP, the Foreign and Commonwealth Office Minister for Africa attended the EU-Africa Summit in Tripoli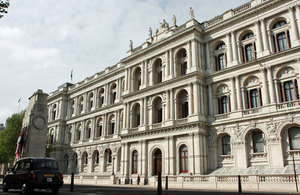 Representing the UK, Henry Bellingham MP, the Foreign and Commonwealth Office Minister for Africa attended the EU-Africa Summit. The theme of the Summit was 'Investment, Economic Development and Job Creation'.
Mr Bellingham delivered a speech at the Summit on peace and security. In his speech, the Minister discussed the security challenges in Sudan and Somalia and welcomed the work carried out by the AU in Africa to foster stability. A full transcript of his speech is available here. The Summit also provided Mr Bellingham with a valuable opportunity to hold individual meetings with many African leaders.
The final Summit declaration can be found at the Africa EU summit website . In the declaration, EU and African states agree to co-operate in areas such as reform of the global governance system, energy and climate change, conflict prevention and development. The Summit also adopted an action plan for 2011-13.
During his visit, Mr Bellingham was able to speak to staff at the British Embassy and visit a seminar for Libyan businesswomen organised by the British Council. The British Council has been supporting the 'Women in Business' group for a number of years. The group aims to strengthen the skills of Libyan businesswomen and provide a forum for the exchange of views and ideas.
Published 6 December 2010