Estonian soldiers in Helmand celebrate their independence day
Estonian soldiers serving alongside members of 3rd Battalion The Parachute Regiment in Helmand province took a brief break from their duties this week to celebrate their own country's liberation - achieved 93 years ago.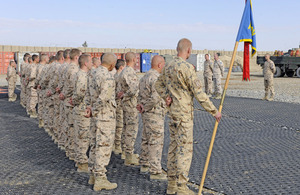 While Estonia spent 24 February 2011 celebrating a public holiday, the country's soldiers deployed in Helmand took a short break from operations and marked their independence day by enjoying some traditional Estonian foods, including sausage, herring, sauerkraut, black rye bread and root beer.
Most of the 165 Estonian troops in Afghanistan are based in Patrol Base Wahid and surrounding checkpoints in northern Nad 'Ali, where they work alongside the Paras driving out insurgent elements, restoring peace and stability to communities, and developing the capability of Afghanistan's own armed forces.
To mark the event, the Chief of the Headquarters of the Estonian Defence Forces, Brigadier General Neeme Vali, visited Patrol Base Wahid and presented some of the soldiers and officers with promotions. In addition, the President of the Republic of Estonia, Toomas Hendrik Ilves, sent the troops a message via video link. He told them:
I wish you all a very happy and safe Independence Day. I confirm that our thoughts on this special day are with those who stand for our security.
The Republic of Estonia was founded on 24 February 1918, when the Salvation Committee declared its independence against Soviet Russia and German forces. The date was celebrated until the Soviet occupation of Estonia in 1940. Since the restoration of the country's independence in 1991, the date has once again become a day of celebration and reflection for the Estonian people.
Published 25 February 2011