Press release
Essential work to take place on the A1 in Gateshead
Drivers will benefit from an improved road surface on the A1 in Gateshead when work starts on Monday 14 September.
This news article was withdrawn on
This press release is no longer current.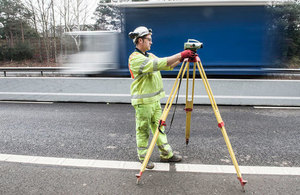 The southbound carriageway between junction 69 (Gateshead Quays) exit and entry slip roads will be closed overnight for 4 nights to allow maintenance work to take place.
The Highways England scheme also includes overnight closures from Tuesday 15 September for 3 nights and again on Monday 21 September for 4 nights on the northbound carriageway at junction 69 (Coalhouse) exit and entry slip roads for the roadside barrier to be removed and resurfacing work to take place.
The carriageway will also be closed overnight in both directions between junction 67 (Coalhouse) to junction 68 (Lobley Hill) from Friday 18 September and Sunday 20 September and again between Friday 25 September and Sunday 27 September.
The final stage of work will take place on the southbound carriageway between junction 70 (Dunston) and junction 68 (Lobley Hill) for resurfacing work, although the closure will be from junction 73 (Derwenthaugh) to junction 68 (Lobley Hill). This work will start on Monday 21 September for 5 nights and again on Monday 28 September for 5 nights.
All the closures will take place between 8pm and 6am.
Highways England project manager Lynne Biddles said:
We understand that there are a lot of closures coming up however it is essential that this work takes place.

All the work will be undertaken overnight and at weekends when traffic levels are at their lowest to keep disruption for drivers to a minimum.
Clearly signed diversions will be in place during the closures. There will be a separate diversion route for heavy goods vehicles to avoid a low bridge at Lobley Hill Road.
The closures will take place as work continues on the £61 million A1 Coal House to Metro Centre improvement scheme.
Once the scheme is complete, almost 4 miles of the A1 will be widened to 3 lanes in both directions between Coal House junction and the Metro Centre junction.
General enquiries
Members of the public should contact the Highways England customer contact centre on 0300 123 5000.
Media enquiries
Journalists should contact the Highways England press office on 0844 693 1448 and use the menu to speak to the most appropriate press officer.
Published 10 September 2015