News story
ESF social enterprise Fifteen Cornwall wins international award
This month Jamie Oliver's Fifteen Cornwall won a top award at the Europe wide RegioStars 2014 run by the European Commission.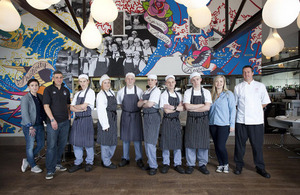 Jamie Oliver's Fifteen Cornwall has won a top award at the Europe wide RegioStars 2014. The critically acclaimed restaurant at Watergate Bay, in Cornwall, beat off 4 other shortlisted finalists in the 'Inclusive growth: Creating jobs for the young generation category'.
Fifteen Cornwall is a social enterprise run by the charity Cornwall Food Foundation. The restaurant, which uses Jamie Oliver's international brand, was originally set up through investment from the European Social Fund (ESF) and European Regional Development Fund (ERDF). The charity continues to receive ESF convergence funding for its apprentice programme, which is also supported by mainstream funding from the Skills Funding Agency and Jobcentre Plus.
The achievement of winning this prestigious award can be traced back to the aims of the enterprise which wanted to inspire disadvantaged young people to transform their lives through food and create opportunities for them to become apprentice chefs.
Since May 2006, the Cornwall Food Foundation has enrolled more than 140 apprentices, with 80% of them still cooking today. The Fifteen Cornwall Apprenticeship programme is about to start training its 9th cohort of future chefs. The Oliver-branded restaurant invests £1 million each year back into the local economy through its 70% local sourcing policy and has created 80 jobs in addition to the 86 apprenticeships so far completed.
Mark Yeoman, head of ESF convergence communication, said: "Fifteen Cornwall has and continues to set important benchmarks – in terms of its enduring success in supporting young people to be the best they can, its emphasis on a successful business driving its social enterprise, and in its wider economic contribution to the quality of the food and tourism sectors in Cornwall. In Cornwall we know Fifteen Cornwall is important and it is great to see this recognised as a beacon of success across Europe."
Barbara Spicer, Interim Chief Executive of the Skills Funding Agency, said: "Well done to Fifteen Cornwall on winning this prestigious award - it clearly illustrates the impact that social enterprises can bring to a community, the Cornwall Food Foundation is doing great work through its engagement with disadvantaged young people. I'm also delighted to hear of the success of the restaurant's Apprenticeship programme and how much the local economy is benefiting from this along with the opportunities it continues to provide to young people in the area."
You can view a video recorded by Jamie Oliver about receiving the award online.
Published 16 April 2014