News story
ESF learners clean up at the Adult Learners' Week awards 2014
Success for learners who won a collection of ESF Project Regional Awards.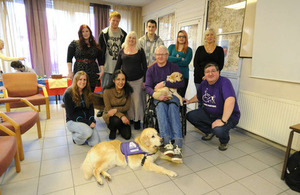 Adult Learners' Week took place last month, bringing together a national celebration of lifelong learning. Now in its 23rd year, it included:
the hosting of the Adult Learners' Week awards
the organisation of over 3000 "have a go" taster activities held by providers
a parliamentary reception
a national policy conference
There was good news for a number of learners who won a collection of regional awards.
Steven Leeming, Kerry Glenn and Phil McCormick were each awarded with a European Social Fund (ESF) Individual Regional Award.
All three learners shared similar experiences of suffering from depression, anxiety and a low sense of confidence before they were introduced to their ESF funded programme. After a period of support and encouragement with a combination of practical learning and volunteering, Steven, Kerry and Phil began to establish a new sense of confidence morale and motivation in their daily lives.
Kerry Glenn completed WorkSkills 1 and 2 in August last year, she said:
WorkSkills has given me my independence back and shown me that I am stronger than my problems. I'd now like to work somewhere that I can use my personal experience to help others who need support.
The ESF Project Regional Award in the East of England went to the K9 Project. It specialises in working with vulnerable and disengaged adults with the use of dogs to create easy access learning opportunities for some of the most vulnerable people in Cambridgeshire. The work of the project helped individuals with learning skills from goal setting to communicating to CV writing and interview skills.
Barbara Spicer, Interim Chief Executive of the Agency said:
It is great to see that Adult Learners' Week continues to be a success and this is demonstrated by the longevity of the event now reaching its 23rd consecutive year! I congratulate those individuals who received recognition in the regional awards. It is very pleasing to see the benefits that such funds like ESF can make on those that need the support and encouragement to gain new skills and self confidence to get their lives back on track.
Published 3 July 2014