News story
Eric Pickles welcomes Asian cuisine apprenticeships
Eric Pickles has welcomed the launched of 5 Centres of Excellence for Asian and Oriental Cuisine.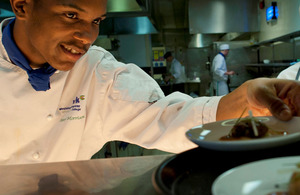 The Communities Secretary, a self-declared "curry lover" and long-time champion of the industry, this week gave his backing to a scheme being launched by People 1st and the Hospitality Guild.
The programme is designed to encourage people of all backgrounds to become chefs or members of staff in the hugely important Asian food sector, and with no fewer than 4 Indian restaurants in England having been awarded Michelin stars Mr Pickles wants recruits to be able to go to the very top of their profession.
He also believes that Britain's love of a biryani is 1 factor that binds our diverse country together and hopes that the industry can help play a part in continuing efforts towards community integration.
The Communities Secretary said:
"Asian cuisine is part of the very fabric of our national life, a multi-billion pound industry and a great success story, in which we should all take pride.
"We want to showcase the economic and social contribution of this great British industry and support British talent from the cheap and cheerful local right up to the top-notch Michelin star restaurant. Some of the finest Asian food in the world is found right here.
"We will continue to work with the industry to help raise the prestige of the sector and encourage people of all backgrounds to succeed at the very highest levels, not just in front of the tandoor, but in management too."
Geoff Booth, Director of Hospitality at Westminster Kingsway College, which is one of the 5 centres, said:
"We are all very excited about establishing a network of Asian and Oriental training centres of excellence.
"It is like building Stonehenge. Everyone involved wants to create something that will last a thousand years.
"We are consciously assembling something immense, piece by piece, brought together over huge distances and we are all intent on leaving a legacy for future generations to benefit from. It will be a real testament to building the best skills for the Asian and Oriental restaurant sector."
The 5 colleges are hosting road show events to promote career opportunities in the Asian and Oriental cuisine, to offer taster sessions, and to engage with employers who are taking on apprentices. Dates for the Asian and Oriental road show events are:
Westminster Kingsway College - 23 April
Leeds City College - 3 April
Trafford College Cheshire - 24 April
University of West London - 19 April
University College Birmingham - 9 May
Published 30 March 2012