Eric Pickles urges England to fly the flag for St George's Day
Communities Secretary Eric Pickles today called on the people of England to fly their nation's flag with pride to mark St George's Day this …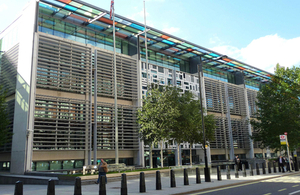 Communities Secretary Eric Pickles today called on the people of England to fly their nation's flag with pride to mark St George's Day this coming Saturday (23 April 2011).
Mr Pickles urged public bodies not to be spoilsports when it comes to allowing the public to display the famous red on white cross. He encouraged them to adopt a common sense approach to flying the flag - rather than misapplying or misinterpreting the rules.
Given extremist groups have previously tried to lay claim to the Cross of St George, Mr Pickles is urging everyone to play their part in helping to reclaim the English flag as a proud and potent symbol of the nation's identity. He believes flying the flag strengthens community cohesion and should be actively encouraged by all public bodies.
Communities Secretary Eric Pickles said:
Whatever one's class, colour or creed, the St George's flag is a unifying symbol for our nation. Let's fly the English flag with pride this weekend, to be followed by the Union flag come the Royal Wedding.
Notes to editors
1. Mr Pickles has been encouraging the flying of England's historic county flags over the past year, to champion England's diverse local identities.
2. Last summer ahead of the World Cup, the Local Government Minister Grant Shapps wrote to Local Authorities encouraging them to take a common sense approach to allowing communities to display the England flag during the tournament. There have been incidents in the past where local councils have asked for flags to be taken down due to interpretation of health and safety or advertising guidelines. The related news story is available here: www.communities.gov.uk/newsstories/newsroom/1611118.
Twitter
Keep up to date with the Department by following us on Twitter (external link).
Media enquiries
Visit our newsroom contacts page for media enquiry contact details.
Published 19 April 2011