Eric Pickles tells councils to come and join the party
Communities Secretary Eric Pickles urges councils to cut red tape and bust common street party myths.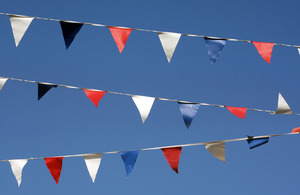 As people and communities up and down the country start unravelling the bunting for their Royal Wedding street parties, the government is reminding councils not to be over-zealous and ensure they don't spoil the fun with red tape and bureaucracy.
Many myths have arisen about what people are entitled to do, and whether they need permission for a street party during the Royal Wedding celebrations. This is why Communities Secretary Eric Pickles wrote to all councils recently urging them to cut red tape and bust common street party myths. The government has also simplified national guidelines so that they are as clear as possible.
Some councils had previously misinterpreted guidance, applying excessive bureaucracy and cost to residents, for example by charging fees for road closures and hiring expensive traffic management companies or equipment.
Many councils have now chosen to slash red tape instead and support street parties by:
waiving road closure charges - indeed there is no requirement at all for closures on small roads and councils can provide advice on traffic management
not automatically insisting on public liability insurance - Prime Minister David Cameron recently announced it is no longer a requirement for small street parties to hold insurance. Councils can advise further on individual circumstances
With support and advice from Streets Alive many councils and communities have been able to bust these myths and take a common sense approach.
One council, Hertfordshire County Council has received an incredible 298 road closure applications making it the royal wedding street party capital. Part of the county's success has been to cut red tape and provide a user friendly online application form, as well as its decision to waive road closure fees.
Other things councils can do to help include consulting residents and working with community organisation like Streets Alive, and giving residents bite-sized information about what they can do and where they may need to take advice from their local authority.
Nikki Jamieson, a Hertfordshire resident who is organising a street party for her neighbours, said:
"We've had a few street parties before and it's been a great way to get to know neighbours and make our local community stronger. We've made new friends and we've even been able to help some vulnerable people in our street as a result. When the bad weather hit last winter a few of us popped in to check older, housebound residents were ok. If we hadn't got to know them at previous street parties, we never would have known that they might need our help.
"Hertfordshire County Council has made it really easy to apply for a street party and the fact that the normal fee has been waived has been an added bonus. Thanks to them, all my neighbours and I are really looking forward to a great party on April 29."
With many people taking part in street parties on 29 April, the up coming Big Lunch street party is likely to have even more revellers on 5 June.
Published 27 April 2011