Eric Pickles salutes armed forces with flag flying high
Communities Secretary Eric Pickles raised the flag of Her Majesty's Armed Forces today outside the Department for Communities and Local Government…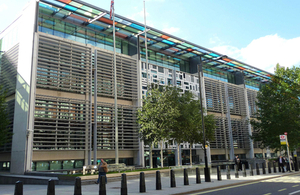 Communities Secretary Eric Pickles raised the flag of Her Majesty's Armed Forces today outside the Department for Communities and Local Government in Whitehall, London, to mark Armed Forces day in recognition of the courage and dedication of members of the armed forces, past and present, to the nation.
Armed Forces Day on 30 June helps raise public awareness of the contribution made to our country by those who serve and have served in Her Majesty's Armed Forces. Mr Pickles is currently looking to relax planning rules on flags to make it easier for the public to fly local military flags to show support for the men and women who make up the community: from currently serving troops to Service families and from veterans to cadets.
At the ceremony of hoisting the Armed Forces flag, Eric Pickles said:
Today, we pay tribute to the bravery of our Armed Forces both in present and historic conflicts.

British forces put their lives on the line to defend British sovereign territory, the British way of life and the rights of British people to determine their own future. Flying their flag is our small way of recognising their endeavour.
The City of Plymouth, with its historic and distinguished links with the military, has been chosen to host the Armed Forces Day national event in 2012. Celebrations on Saturday 30 June will be an opportunity to see the Armed Forces up close and pay tribute to our heroes past and present. Participants will include members of the Armed Forces, veterans, the Cadet Forces, the Merchant Navy, support agencies and charitable organisations.
Notes to editors
The Department is currently assessing responses to a discussion paper on relaxing the planning regime on flag flying and allowing people to fly more flags without having to seek and pay for planning consent from their local authority.

More information on Armed Forces Day can be found here: www.armedforcesday.org.uk (external link).
Published 25 June 2012