Eric Pickles praises inspirational values during Eid celebrations
Communities Secretary Eric Pickles celebrated Eid with over 350 members of the Muslim community at an event in London.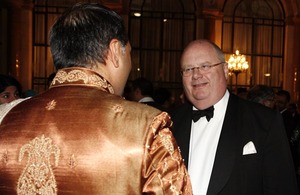 He joined Home Secretary Theresa May, Foreign Office Minister Alistair Burt and Cabinet Office Minister Baroness Warsi, in recognising the significant contribution British Muslims make to this country and in praising the huge efforts in response to the floods in Pakistan.
During the Foreign & Commonwealth Office reception held at Durbar Court, co-hosted by Communities and Local Government, Eric Pickles took the opportunity to meet British Muslims to thank them for their support and pass on good wishes for Eid.
Mr Pickles said:
"The messages of compassion, giving and justice are strong in the Islamic faith. And this period of Ramadan and Eid, in particular, inspires Muslims to focus more on others than themselves and think about those who are less fortunate.
"Each day, thousands of Muslims - as well, of course, as Christians, Jews, Hindus, Sikhs and Humanists - are inspired by their beliefs to quietly make a huge difference. In many ways, these communities exemplify the Big Society principles - the desire to make things better, the sense of collective responsibility, the degree of neighbourliness, and the practical skills to get things done.
"So I want to express my thanks for everything you do as individuals and as a community and wish you all a belated Eid Mubarak."
Eid al-Fitr, which this year fell on 9 September, is a 3-day festival to mark the end of the Muslim holy month of Ramadan. It is traditionally a time for sharing and many Muslims celebrate the festival with their families.
Photographs courtesy of the Foreign & Commonwealth Office. More images of the event are available on their Flickr channel
Published 22 September 2010