Eric Pickles praises Halton for joining the recycling reward trend
Eric Pickles has praised Halton Borough Council, in Runcorn and Widnes, for being the first northern council to adopt recycling rewards.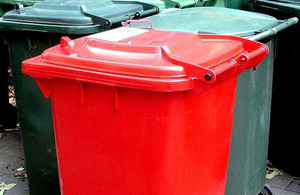 Halton's voluntary recycling scheme, which started off as a pilot, lets residents earn points for recycling which can be spent in local shops and restaurants. Residents can earn up to £135 worth of points a year from over 120 reward partners, at no other cost to residents. Mr Pickles believes this is the right way to encourage households to recycle waste
The Halton scheme, the first in the North of England, will now be extended to 47,000 residents. During the 6-month trial period residents recycled 60% more and collected a total of 6 million reward points. The council plan to extend it to a further 9,000 more residents in 2011.
In June, environment ministers axed the funding for pilot schemes for 'bin taxes.' Bin tax schemes would have allowed local councils to charge residents for household rubbish collections or fine families for having a full bin. Ministers believe they promoted a culture of 'bin bullying' and fuelled fly-tipping to dodge fines. Under the scrapped bin tax laws, once introduced pilot schemes could be rolled out nationally without a substantive vote in Parliament.
In line with the government's commitment to greener cleaner communities Mr Pickles has also withdrawn Audit Commission guidance encouraging councils to switch to fortnightly collections and laid out plans to remove the bin tax laws from the statute books.
Communities Secretary Eric Pickles said:
"The first recycling reward scheme in the North of England is great news for all residents in Halton and good for the environment.
"By adopting this common sense approach to recycling Halton council is leading the way proving that carrots really do work better than sticks.
"The best way to encourage people to recycle is not to punish families, but to encourage and reward them for going green. It's time to rein in the bin bullies and work with local people to build greener and cleaner communities."
Councillor Stef Nelson of Halton Borough Council said:
"The scheme brings benefits to the whole community in Halton. As well as providing rewards to residents, local businesses can benefit from increased custom which provides a welcome boost to the borough's economy. We believe this scheme is a win-win for all concerned and we are delighted to be able to offer the scheme to even more residents."
Halton council is the second English council to go for a reward scheme. In June the Local Government and Environment Secretaries visited Windsor and Maidenhead the first council to adopt this pioneering approach to recycling.
Published 27 August 2010