Eric Pickles praises Big Society snow angels and gritty determination from communities
Communities Secretary Eric Pickles has praised people's efforts and neighbourly support in the cold weather this week and applauded the Big …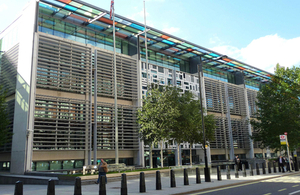 Communities Secretary Eric Pickles has praised people's efforts and neighbourly support in the cold weather this week and applauded the Big Society spirit from local councils and communities.
In guidance issued today, Mr Pickles also called on councils and other local organisations to avoid icy bureaucracy getting in the way of community action, and reminded people that they would not be subject to legal action under health and safety laws if they used common sense to clear a pavement or help grit a path.
During the recent cold spell, major disruption has been caused and conditions have been tough but hundreds of people and organisations have swung into action to help others through kind support.
Eric Pickles, Secretary of State for Communities and Local Government, said:
There should be no barriers getting in the way of community action. I want to send out a strong message that clearing a path and helping your neighbours should no longer be subject to icy bureaucracy and health and safety zealotry. Common sense is now the order of the day.

In this cold snap, the values of the Big Society are more important than ever. Thousands of people have stepped up for their community. Parents swept the paths so that children could get to school safely. Volunteers in mountain rescue teams worked round the clock to help the stranded. People checked in on elderly neighbours, did their shopping or visited the library for them. We should celebrate that community spirit.
Notes to editors
1. DCLG has today reissued guidance that challenges misconceptions about health and safety laws getting in the way of action and volunteering. It also contains contacts for useful charities such as the Red Cross for vulnerable people, and tips on how to volunteer http://www.communities.gov.uk/publications/communities/severeweatherguidance.
2. Local initiatives such as free shovel schemes in Camden are proving a success, where neighbours are encouraged to pass the shovel on next door once they have finished clearing their driveway.
3. The London Borough of Sutton, also a Big Society vanguard, is giving away free bags of grit for local people. So far, thousands of people have taken up the offer and helped clear the way with council workers, keeping paths clear so help can reach the most vulnerable people and shops can stay open.
4. Durham County Council have enlisted the support of farmers who hold winter maintenance contracts to help clear other areas and have redeployed staff from certain normal duties to help clear snow from pavements in high priority areas.
5. In Newcastle, the Council has produced tips for driving in hazardous conditions created by snow and ice. Examples of these include: carrying a car kit in your vehicle, which contains waterproof clothes, a torch and spade, mobile phone charger and emergency contact list for instance; telling family and friends about your travel plans; making sure your car has adequate visibility by clearing front and back windscreens and all windows/wing mirrors before setting off; and checking on older friends and neighbours, making sure they are warm and safe. To avoid doubt, the Council has also made clear that residents are entitled to clear the snow from their own driveways.
More generally, the Council's actions in the face of current weather conditions are part of its vision for a 'Resilient Newcastle'. This vision includes plans for sustaining communities during major incidents, as well as encouraging local businesses and voluntary agencies to prepare to continue operating during times of crisis or recover effectively following disruption.
6. A community in Nenthead in Cumbria have clubbed together and bought and are now running a snowplough, with the assistance of Cumbria County Council.
7. HMRC have also issued guidance clarifying that any vehicle being used to clear snow from public roads by means of a snow plough or similar device is entitled to use red diesel. The law in relation to gritting is that in order to be entitled to use red diesel the vehicle has to be constructed or adapted solely for the conveyance of machinery for spreading material on roads to deal with frost and snow. HMRC recognise the vital role played by farmers in helping to keep rural roads clear. They will exercise an element of discretion, taking into account the exceptionally severe weather.
Twitter
Keep up to date with the Department by following us on Twitter (external link).
Media enquiries
Visit our newsroom contacts page for media enquiry contact details.
Published 6 December 2010