Eric Pickles pays tribute to 'best of British' pubs
Minister outlines government support ahead of summer of celebration Communities Secretary Eric Pickles today paid tribute to the 'Great British…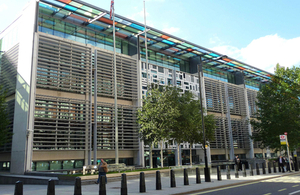 Minister outlines government support ahead of summer of celebration
Communities Secretary Eric Pickles today paid tribute to the 'Great British pub' in a speech that highlighted the Government's continued support to the sector.
Speaking at the All Party Parliamentary Beer Groups' annual awards, Mr Pickles encouraged the industry to recognise the opportunities ahead. He emphasised the Government support helping pubs get in 'the shape of their life' in anticipation of  'a triple whammy' of festivity this summer, bringing punters new and old down to the local to share in the celebrations.
Pubs make a huge contribution to communities and the country, not just to our heritage, and social lives but to the economy. Pubs collectively add £19 billion to the national economy and provide 900,000 jobs. With the Diamond Jubilee, Olympics and European Championships fast approaching the Minister highlighted how the Great British pub can expect even more opportunities to get business booming.
The Government are determined to help support community pubs to thrive in the long-term making sure that they can continue to play a fundamental role in communities for years to come.
The Communities Secretary made clear the Government's continued commitment to cutting restrictive red tape and knocking down bureaucratic barriers that have held back community pubs.
Communities Secretary Eric Pickles said:
Nothing says Britain more than our Great British pubs and our Great British beer. Pubs and brewing are part of our social and cultural heritage but they are also playing a fundamental role in our present.

Just as pubs are at the heart of communities we are giving communities the chance to get involved at the very heart of their local, enabling them to make their bids to ensure that these social and economic hubs continue to thrive.

We are determined to give our community pubs the support to help get them in the shape of their lives to get business booming not just in this summer of celebration but in the years to come.
The Government has already introduced a series of measures to support thriving community pubs including:
doubling small business rate relief from £6,000 to £12,000 until March 2013 and ensuring rural rate relief is available to public houses

enabling councils to introduce further business rates discounts to support local businesses, through powers handed to them in the Localism Act

introducing a minimum unit price preventing supermarkets from unfair sales of alcohol below cost-price and put an end to the so-called cider-tax

through the Community Right to Buy, the Department is giving residents the power to save struggling local pubs by taking them over rather than seeing them empty and derelict

making it easier for pubs to have live music, taking away the usual licensing rules from performances where the audience numbers 200 or fewer.
Published 17 May 2012