Press release
Eric Pickles opens up planning appeals and lays down challenge
Abuse of state powers as councils threaten bloggers with arrest.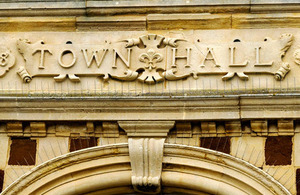 Local Government Secretary, Eric Pickles, today (22 August 2013) warned that freedom of speech and independent journalism were under attack in local government, following local residents being threatened with arrest for filming and reporting meetings.
In response, Mr Pickles upped the stakes, as he will be publishing new guidance which formally opens up planning appeal hearings to be filmed, tweeted and reported. He laid down a challenge to councils to open up their planning committees and other meetings in return.
As part of the government's review of planning practice guidance, new guidance by the Planning Inspectorate will make clear the rights for members of the press and public, including local bloggers and hyperlocal journalists, to report, film and tweet planning appeal hearings. Ministers hope this will open up a previously mysterious and rarely seen side of the planning process.
The Planning Inspectorate determines 20,000 appeals a year, of which roughly 2,000 are via hearings or inquiries, compared to almost half a million planning applications considered by councils. The number of applications going to appeal has fallen since 2010.
In June, Mr Pickles published clear guidance to councils asking them to open up to overt filming and social media. This builds on the rights to attend council meetings that were introduced by Margaret Thatcher in 1960, following a Private Members' Bill in her maiden speech to Parliament.
However, since June, some councils are still continuing to oppose an independent press:
Wirral Council has said filming a planning committee would compromise "health and safety"
Tower Hamlets Council barred a 71 year old resident from filming due the risk of "reputational damage to the authority"
Keighley Town Council blocked residents filming as it would amount to a "breach of standing orders"
Bexley Council said audio and visual filming would breach its "agreed protocol"
Stamford Town Council has placed a ban on journalists tweeting from meetings due to the risk of them "not accurately portraying a debate"
The Welsh government has also rebuffed the suggestion that the same approach should be taken to open up council meetings in Wales, as is being pushed in England. Welsh ministers have claimed that the interest in openness is "an unhealthy obsession" and a blogger in Carmarthenshire was arrested and handcuffed by the police for filming a council meeting.
Mr Pickles said:
Watching television programmes like Grand Designs, viewers have been baffled as cameras are stopped from filming meetings of the planning committee. Councillors shouldn't be ashamed or be trying to hide the work they do. I am opening up the planning appeals that my department oversees, so the public can see how the planning system works in practice. Councils should match this by opening up their planning meetings and other committees.

A small number of councils are blocking filming because they want to suppress independent reporting, just as some councils are clinging to their town hall Pravdas. An independent local press and robust public scrutiny is essential for a healthy local democracy: without the sunlight of transparency, the flowering of localism will wither. Heavy-handed councils who call the police to suppress freedom of speech are abusing state powers.
Further information
New guidance to open up planning appeals
As part of the government's review of planning practice guidance, the Department for Communities and Local Government is publishing a new procedural guide for the Planning Inspectorate. A new section will explicitly open up planning appeals with common sense advice:
Hearings and inquiries are open to journalists and the wider public, as well as interested people. Provided that it does not disrupt proceedings, anyone will be allowed to report, record and film proceedings including the use of digital and social media. Inspectors will advise people present at the start of the event that the proceedings may be recorded and/or filmed, and that anyone using social media during or after the end of the proceedings should do so responsibly.
Not so open: recent case studies
On 14 June 2013, Eric Pickles published a new guide for local residents explaining how they can attend and report their local council meetings. The new guidance explicitly states that councils should allow the public to film, blog and tweet council meetings.
However, this has been opposed by some councils:
Facts on planning appeals
In 2012 to 2013, the Planning Inspectorate made 19,466 decisions (Excel, 3.6 MB) on planning appeals in England (compared to 22,063 in 2011 to 2012, and 23,234 in 2010 to 2011).
In total 454,000 planning applications decided by district authorities in England in 2012 to 2013 (there are also a smaller number of county-level applications and planning enforcement cases).
Published 22 August 2013