Eric Pickles opens new manufacturing institute with £3.5 million boost
Communities Secretary Eric Pickles today announced a £3.5million Government investment for manufacturing innovation at the opening of a new …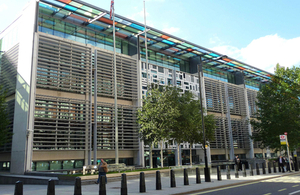 Communities Secretary Eric Pickles today announced a £3.5million Government investment for manufacturing innovation at the opening of a new High Speed Sustainable Manufacturing Institute in Essex.
The institute is close to the legendary Dagenham factory
The new Institute has been created in partnership with the Centre for Engineering and Manufacturing Excellence and Ford Britain, who are investing a further £1.44million, and is located in a manufacturing heartland a short distance from the legendary Dagenham factory.
The Institute will develop new and innovative ways to improve manufacturing techniques and increase productivity that will ensure Britain remains a top choice for investment. It is expected to generate £80million to the local economy.
The Institute will develop state of the art virtual manufacturing systems to assist companies to develop and implement world leading manufacturing processes, which are often too costly for many organisations to design themselves.
It will bring together leading lights from the worlds of business, engineering and academia employing 22 researchers and PhD students to work alongside 6 Ford research staff to create programmes that will help develop the high skilled work force needed to operate such systems.
Mr Pickles was joined by Ford Britain Chairman Joe Greenwell, as well as Chief Executive Bill Williams and Chairman, Martin Broadhurst of the Centre for Engineering and Manufacturing Excellence. They met engineers learning the skills to drive the industry forward in the future.
Communities Secretary Eric Pickles said:
This country and county has a proud history of manufacturing. By investing in high-tech skills and innovation we can help ensure that as well as being part of our past, quality manufacturing is part of our future.

By promoting enterprise, pushing forward research, creating jobs and giving people more skills we are sending a powerful signal that Britain is a top choice for inward investment and with that bringing local growth back to communities.

This is an Institute with a big ambition, to push back the frontiers of manufacturing, quicken production and reduce costs and bring benefits to business as well as the local area. It is a delight to open this new Institute and to pledge £3.5million of investment.
Local Government Minister Bob Neill said:
By bringing together the leading lights from business, academia and engineering the institute presents a wonderful opportunity to put Britain back at the forefront of manufacturing achievement.

The Government is committed helping to stimulate local enterprise and help drive local growth investment in projects like this that not only boost businesses but bring about wider benefits to the local area. As the world's eyes turn to this area in the coming weeks, this institute stands out as a beacon of the innovation in the manufacturing industry.
Joe Greenwell, Ford of Britain chairman, said:
Ford is delighted to be a founding partner in this exciting new initiative. The Institute will accelerate research and development in innovative manufacturing systems that will help underpin the future of the UK's high value manufacturing sector. This complements the work that Ford is already doing in this area and also provides significant opportunities for supply chain partners.
Bill Williams, CEO of the Centre for Engineering and Manufacturing Excellence said:
The creation of the High Speed Sustainable Manufacturing Institute is a bold step in further establishing the United Kingdom in its place of the premier league of manufacturing engineering excellence world-wide.
Images
All images are available from the DCLG Flickr channel (external link).
Notes to editors
The Department for Communities and Local Government is contributing £3.5million over three years to the High Speed Sustainable Manufacturing Institute.

It will be based at the Centre for Engineering and Manufacturing Excellence (CEME) at Rainham, Essex. CEME is a registered charity that operates an industry-led education and business campus in the heart of the Thames Gateway. CEME was created in 2002 as part of the Government's regeneration programme for the Thames Gateway region. It is a key catalyst for delivering growth in business and skills for the local economy.

The High Speed Sustainable Manufacturing Institute will focus on the discipline of Manufacturing Engineering. Manufacturing Engineering is the branch of engineering concerned with the efficient production of industrial goods. It includes the design of production plant equipment and processes. This is an activity common to all manufacturing sectors and is particularly relevant to high volume operations.
Published 24 July 2012