Eric Pickles joins The Archbishop of Canterbury to celebrate the Near Neighbours Programme's achievements in East London
The Near Neighbours programme brings people together from diverse communities and different faiths.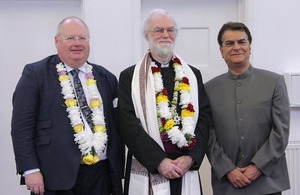 Communities Secretary Eric Pickles joined The Archbishop of Canterbury at the Shri Vallabh Nidhi Hindu Temple, in Waltham Forrest (7 June 2012) to celebrate the success of grassroots projects across East London working to improve community relations under the Near Neighbours scheme
Near Neighbours uses the parish infrastructure of the Church of England to bring people together from diverse communities and different faiths to get to know each other better, take action on local issues and help them to transform their local neighbourhood.
Attendees of all faiths heard from groups across Waltham Forest that are fostering greater understanding of each other's cultures, including:
the parish of St Barnabas with St James, which is bringing local Christians and Muslims together to discuss community safety concerns
Waltham Forest Asian Seniors' Club, which is working with the Shem Hall Methodist church to develop a new 'healthy lunch club' for pensioners
and the Intergenerational Community Mentoring Project, which has been training adults of various faiths - who have overcome issues including homelessness or unemployment - to become mentors to local young people
The Temple is itself linked to St Andrew's ecumenical church, Walthamstow as part of the Faith Friendship Club which connects Hindus and Christians through art, music and dance.
Eric Pickles said:
Our faith groups play a vital role in our communities with a strong tradition of giving back, improving the lives of those around them through practical action. It's great to hear from communities in East London that are taking up Near Neighbours with such enthusiasm, coming together to do great things for the common good.
Published 11 June 2012