Eric Pickles hears local ideas for economic revival
Eric Pickles visited Birmingham to listen to local ideas from the business sector about stimulating and sustaining economic growth locally.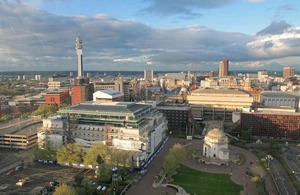 The government sees businesses playing a vital role in kick-starting local economies and in helping to create areas that are vibrant and prosperous places to live.
One example of the government's commitment to growth is through local enterprise partnerships - dynamic joint ventures between local authorities and business that puts them firmly back in charge of their local economies.
Ministers believe that by pushing power away from Whitehall, the government is giving local democratic leaders and business the opportunity to decide how to grow their local area for themselves, and in doing so help rebalance the national economy.
As part of the visit Mr Pickles toured Cleone Foods Factory in Hockley, a great example of local economic success, which employs 50 people and sells its products all over the country. He also spoke to local business leaders who are leading a community project to help retailers be better corporate citizens at local level.
The meeting was also attended by the Birmingham and Solihull, and the Black Country local enterprise partnerships. The government approved both partnerships last year. They are now gearing up to drive forward and deliver many of the local ideas for economic renewal that were discussed.
Eric Pickles, Communities Secretary said:
"Birmingham is a world city as important as Boston or Barcelona. Today, I have heard at first hand the ideas of local business who are already stepping up to the plate to foster local economic growth.
"Prosperity in local business goes hand in hand with prosperity in local economies and the wider community. Through local enterprise partnerships the people who have the knowledge about what is best for the area and how best to achieve local growth are being given the reins to rebalance growth from the ground up."
In addition to this, the government has unveiled plans to devolve even greater powers to the localities to drive economic growth in its plans to allow councils to keep the business rates they collect locally, giving councils renewed incentive to attract business to the area.
A £1.4 billion Regional Growth Fund has been set up to support communities currently dependent on the public sector, helping them make the transition to private sector led prosperity.
Published 20 January 2011