Press release
Delivering new homes for hard-working people
New figures show that the Help to Buy: Equity Loan scheme is surging ahead with 10,000 reservations for new build homes in the last 4 months.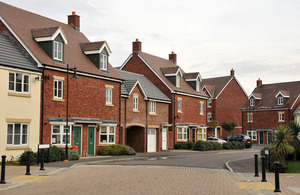 Government action to help kick-start the housing market is working, Eric Pickles, said today (13 August 2013).
Ministers also pointed to the delivery of almost a third of a million additional homes in the last 2 years, and 150,000 more affordable homes have been built under this government. Mr Pickles said that housing supply and confidence is now increasing, and has turned a corner since the unsustainable housing bubble burst under the last administration.
Latest figures show that:
since the launch of the Help to Buy: Equity Loan scheme in April, new figures today show there have been 10,000 reservations for new build homes - the scheme is giving the confidence to house builders to deliver and build more new homes
new housing supply is at its highest level since 2008, the tail end of the housing bubble, a total of 319,000 additional homes across England have been added to housing supply in the 2 years from October 2010 to October 2012
the number of first time buyers is at its highest level since 2007 and rising
over 150,000 affordable homes have been made available in England in the last 3 years, thanks to the wider affordable housing programmes £19.5 billion of public and private investment is being spent on affordable housing over the current Spending Review period
the number of repossessions is at the lowest level since 2007 - mortgage arrears are at their lowest since 2008
interest rates remain at a record low thanks to the government's action to reduce the deficit left by the last administration, helping new and existing homebuyers with the cost of a mortgage
the government's Funding for Lending Scheme has also increased the availability of competitively priced mortgages
Eric Pickles, Secretary of State for Communities and Local Government, said:
This government's package of measures to boost the housing market is working, with house building and housing supply on the up. The tough decisions we've taken to tackle the deficit are now delivering a sustainable increase in housing and providing real help to hard-working people.

With over 10,000 reservations in 4 months, it's clear that the Help to Buy: Equity Loan scheme is working well. By dealing with the big challenges, we are helping thousands of young people and families get on and move up the housing ladder, and Britain is building again.
Further information
Housing confidence rising
Lending to first-time buyers has hit its largest quarterly total since 2007 with 68,200 purchasing their first home in the second quarter of 2013 (CML press release, 12 August 2013). This builds on the 216,200 first time buyers in 2012, which in itself was the highest since 2007 (CML press release, 12 February 2013).
House building is at its highest rate since 2008 (67,422 new homes were registered in the UK between January 2013 and the end of June; NHBC press release, 26 June 2013).
Over 150,000 affordable homes have been built since 2010 to 2011, this is the total gross affordable housing supply for 2010 to 2011 and 2011 to 2012, and the new supply through the Greater London Authority and Homes and Communities Agency for 2012 to 2013. The latter source understates the full increase in affordable housing; full figures for 2012 to 2013 will be available in November.
The number of net additional dwellings is now at its highest level since 2008 to 2009, and in line with figures before the housing bubble (DCLG, net supply of housing 2011 to 2012, England, 1 November 2012, Table 1).
A total of 319,000 additional homes across England have been added to the housing supply and rewarded by the New Homes Bonus, in the 2 years from October 2010 to October 2012.
The number of repossessions is at its lowest level for 5 years, there were 33,900 repossessions in 2012, the lowest annual figure since 2007 (CML press release, 14 February 2013). The number of mortgages in arrears is at its lowest since 2008 (CML press release, 8 August 2013).
Help to Buy delivering for hard-working people
Help to Buy consists of 2 schemes. The Equity Loan for new build properties, has nearly 3,000 sales already completed and has had over 10,000 formal reservations in the first 4 months.The Help to Buy: Equity Loan scheme will help up to 74,000 homebuyers over next 3 years. Under the Equity Loan scheme, buyers receive a 20% equity loan, interest-free for 5 years, which helps creditworthy buyers purchase a new build property from a participating house builder with a value of up to £600,000.
The Help to Buy: Mortgage Guarantee scheme, administered by HM Treasury, will begin in January 2014. It will enable lenders to use government-backed guarantees to offer £130 billion worth of mortgages with smaller deposits of at least 5% on new and existing properties for creditworthy buyers. This will further increase the availability of mortgages and help promote confidence and house building.
Recent comments about Help to Buy from leading house builders
Mark Clare, Chief Executive of Barratt said:
Customer interest in the Help to Buy scheme has been very strong as it addresses the issue of lack mortgage finance at higher loan to values. Interest has been particularly encouraging from customers previously locked out of the market by high deposit requirements. Post the Budget announcement, compared with last year, we saw reservations step up 18% and visits to the Barratt website increase by around 30%.

Our production will rise to meet higher levels of demand and it's likely that our completions this year will be up 20% on 2 years ago. We are investing in land and bringing it through planning too and we are also expanding the business by taking on 600 new apprentices and graduates to tackle the skills shortage that could constrain future growth.
Jeff Fairburn, Group Chief Executive of Persimmon, said:
Since the introduction of the Help to Buy measures in April, we've seen a notable increase in customer interest and visitors to our sites, resulting in a stronger level of sales reservations across England. In response we have increased our build activity to meet this increase in demand. If this early interest is maintained, the Help to Buy Scheme will play an important role in enabling the industry to increase the volume of new homes built over the coming months and years. And in addition to helping the housing shortage this will have wider benefits for jobs and the economy - for example Persimmon has already decided to make significant further investment in trade apprentices this year to support the anticipated increase in output.
Pete Redfern, Chief Executive of Taylor Wimpey said:
It enables us to build more homes on the sites we have already got open, and also gives us more confidence about investing in future sites and infrastructure which creates more jobs and economic activity locally.
Published 13 August 2013