Eric Pickles celebrates Harvest Festival at Borough Market
Communities Secretary Eric Pickles joined a multi-faith celebration of Harvest Festival at London's Borough Market on Sunday (21 October 2012).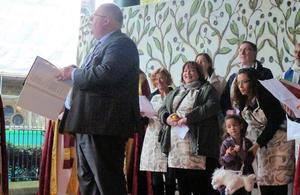 The event, held jointly with Southwark Cathedral, coincided with the Market's annual 'Apple Day' and began with the Dean of Southwark, The Very Reverend Andrew Nunn, leading a procession from the Cathedral into the market. A short act of worship including hymns sung by the Borough Market Choir was followed by a collection of food and clothing donated to the local Manna Day Centre for the homeless and the ROBES winter shelter project.
Communities Secretary Eric Pickles said:
"Throughout the year, Christian communities across the country help others through volunteering and supporting charities. These admirable activities are highlighted by the Government-backed 'A Year of Service' programme, where during Harvest Festival Christian communities are opening doors to other faiths and to the wider public. Whether it be raising funds for local charities or distributing food, every good deed serves to enrich and unify our communities."
Sunday's Christian-led event was one of many social action activities taking place this month across the country to coincide with Harvest Festival and is part of 'A Year of Service' - the year-long Government-backed programme to highlight the substantial contributions made by faith groups and to introduce more people to multi-faith volunteering.
Christian communities throughout October are inviting people from offices, schools, youth groups and places of worship from other faiths to take part in volunteering-led activities including food collections, processions and organising multi-faith meals for students.
The Archbishop of Canterbury, Dr Rowan Williams, said:
"This year, the unique A Year of Service programme is encouraging members of different faith communities and people of no faith to come together to volunteer and help improve local neighbourhoods. In most churches, Harvest Festival is usually celebrated only amongst Christians but this year partnerships are developing between local mosques, synagogues, temples and gurdwaras in order to gather and distribute food. Initiatives like this can make a real difference in areas where neighbours of different faiths do not yet know each other and Harvest gives a good opportunity for them to work together to help the poorest people in their neighbourhood."
More images from the event are available from the DCLG Flickr channel
Published 23 October 2012