Eric Pickles celebrates faiths working together in inter faith week
Communities Secretary Eric Pickles has kicked off national Inter Faith Week by urging everyone to get involved in inter faith activities and…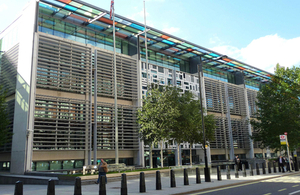 Communities Secretary Eric Pickles has kicked off national Inter Faith Week by urging everyone to get involved in inter faith activities and make connections with people of different faiths.
During the week, Mr Pickles will attend an event to promote youth volunteering in community projects on Monday 22 November, as well as the Church of England's main event of the week - an inter faith event to coincide with the opening of the General Synod - on Tuesday 23 November.
Inter Faith Week is about locally focussed events, organised by and for people living near one another. Events are taking place around the country and include shared meals, arts festivals and exchange visits to places of worship.
Eric Pickles will also host a national reception on Thursday 25 November, providing an opportunity for Government ministers, faith leaders and local activists to forge new links and consolidate areas of common ground. Speaking at the event, Mr Pickles is expected to recognise the importance of inter faith cooperation and encourage as many people as possible to get involved in events in their area.
Eric Pickles said:
Inter Faith Week is the perfect opportunity to celebrate the fantastic pastoral work of faith communities - and also to recognise that it's when they pull together in a shared endeavour that they can make the biggest difference in their community.

Collaboration builds stronger understanding and helps people to concentrate on the values they hold in common - without ever losing their unique strengths.
As well as aiming to strengthen bonds between people of different faiths, Inter Faith Week also seeks to increase understanding and collaboration between people of religious and non-religious belief.
Through the Faiths in Action grant scheme, the Government is supporting a number of innovative local projects. Many of these have an emphasis on people from different backgrounds coming together to address local problems such as improving green spaces, as well as promoting tolerance and respect.
The Rt Revd Dr Alastair Redfern and Dr Manazir Ahsan, co-chairs of the Inter Faith Network for the UK, said:
Good inter faith relations and practical cooperation between different faith communities are vital to the wellbeing of our society in the UK. Faith communities have an enormous amount to offer to their local communities and to national life: working both independently and together in ways which respect their distinctiveness.

Inter Faith Week shines a light on the rich possibilities of mutual engagement and offers a chance for encounter, learning and practical engagement. We are delighted that hundreds of organisations, such as faith groups, schools and institutions of further and higher education, local authorities and emergency services are planning events.
Video
Watch Communities Minister Andrew Stunell talking about Inter Faith Week 2010.
Download
MS Word, 22 kb
Twitter
Keep up to date with the Department by following us on Twitter (external link).
Media enquiries
Visit our newsroom contacts page for media enquiry contact details.
Published 22 November 2010