Eric Pickles celebrates faiths working in harmony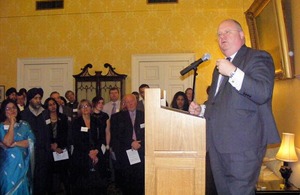 Communities Secretary Eric Pickles has hosted a reception during Inter Faith Week to recognise the contribution of faith based social action and the merits of collaboration between faiths.
Speaking at the reception, which was attended by local faith-based activists, Mr Pickles likened faiths working together to different voice parts singing in harmony - all are striving for the same goal, each component strengthened by the others, but it is their differences which make it work so well.
Eric Pickles said:
Inter Faith Week is the perfect opportunity to celebrate the fantastic practical work of faith communities - and also to recognise that it's when they pull together in a shared endeavour that they can make the biggest difference in their community. Collaboration builds stronger understanding and helps people to concentrate on the values they hold in common - without ever losing their unique strengths.
As well as aiming to strengthen bonds between people of different faiths, Inter Faith Week also seeks to increase understanding and collaboration between people of religious and non-religious beliefs.
The Rt Revd Dr Alastair Redfern and Dr Manazir Ahsan, co-chairs of the Inter Faith Network for the UK, said:
Good inter faith relations and practical cooperation between different faith communities are vital to the wellbeing of our society. Inter Faith Week shines a light on the rich possibilities of mutual engagement and offers a chance for encounter, learning and practical engagement.
Other events taking place across the country during Inter Faith Week are predominantly locally focussed, organised by and for people living near one another. They include shared meals, debates, arts festivals and exchange visits to places of worship.
Communities Minister Andrew Stunell, also at the reception, attended a number of these local community inter faith events during the week.
(Photograph courtesy of the Inter Faith Network).
Published 26 November 2010