Eric Pickles celebrates British Bangladeshi achievements
Communities Secretary Eric Pickles gave credit to some of the most successful and influential British Bangladeshi people at an awards ceremony…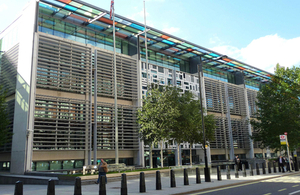 Communities Secretary Eric Pickles gave credit to some of the most successful and influential British Bangladeshi people at an awards ceremony in East London on Thursday night.
In his speech to more than 400 members of the British Bangladeshi community, the Secretary of State recognised the many contributions that Bangladeshis have made to British society and beyond. He also emphasised the importance of everyone, from every community, feeling that they can get involved in their local neighbourhood.
The Communities Secretary said:
The Bangladeshi community plays an active role in every sphere of British life and those being awarded tonight are a real inspiration.

As well as the individuals being recognised tonight, Bangladeshi people across the country are more likely than any other ethnic minority group to be involved in local decision-making bodies. In other words, Bangladeshi people are asking, not what their local area can do for them, but what they can do for their local area. Commitment like that - that readiness to get involved - is always to be applauded, and has never been more vital than today.
British Bangladeshis will continue to be an important part of the fabric of this country and it's a pleasure to celebrate today the outstanding achievements of the community".
The event marked the launch of this year's edition of the British Bangladeshi Who's Who publication. Appearing as Chief Guest at the launch, Mr Pickles spoke alongside Rushanara Ali, the first ever MP of Bangladeshi origin, and the Bangladeshi High Commissioner, Dr M Sayedur Rahman Khan.
The Who's Who lists around 200 successful British Bangladeshis and a small number were picked out to receive awards for their exceptional work. Those receiving awards included Abdul Gaffar Choudhury for his outstanding achievements in journalism and literature and Sir Fazle Hasan Abed for Outstanding International Contribution, for his work in tackling poverty and empowering the poor, especially in Bangladesh.
Notes to editors
The British Bangladeshi Who's Who is published by British Bangla Media Group. This is the third year of the annual publication, which focuses on British Bangladeshi's support for the economy and highlights individual accomplishment, contributions and achievements, as well as the success of the community as a whole.
2. Award winners were:
Rushanara Ali MP - Outstanding achievement in politics
Amin Ali - Outstanding achievement in catering
Abdul Gaffar Choudhury - Outstanding achievement in journalism and literature
Sir Fazle Hasan Abed - Outstanding international contribution
Dr Wali Tasar Uddin MBE - Outstanding achievement in catering
Khatun Sapnara - Outstanding achievement in law
Twitter
Keep up to date with the Department by following us on Twitter (external link).
Media enquiries
Visit our newsroom contacts page for media enquiry contact details.
Published 15 October 2010