Press release
Eric Pickles calls for more town centre parking spaces
Communities Secretary announces new planning guidance to deal with street clutter and road humps and calls for more town centre parking.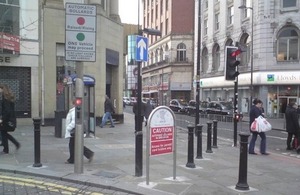 New planning guidance to be published this week will push for more town centre parking spaces and tackle the blight of ugly street clutter and aggressive 'anti-car' traffic calming measures like road humps, Communities Secretary Eric Pickles announced today (26 August 2013).
The new practice guidance, covering design, town centres and travel plans, will state that councils should understand the important role appropriate parking facilities can play in rejuvenating shops, high streets and town centres. It also sets out how town hall planning rules should not be used to tax drivers or justify development of crude traffic calming measures, such as poorly-sited bollards and road humps.
Approximately half of all parking is run by local authorities and recent research by the Association of Town and City Management has shown that there is a strong relationship between parking provision and high street footfall. The association has warned that aggressive municipal parking policies are now stifling local trade, and councils' pursuit of car parking revenue in itself has 'forgotten' the original rationale for parking management. It notes that shoppers are being turned off by rigid enforcement policies and unwelcoming parking wardens.
The new government guidance is part of a new 'easy to use' online guide that replaces 7,000 pages of previous planning documents which created excessive red tape and made the planning system inaccessible to anyone other than planning lawyers, lobbyists and NGOs. It has been developed following an external review to make planning more accessible to councillors and local residents.
Today's announcement is also part of a wider government initiative to support parking and local shoppers. Ministers will be making more announcements on parking in due course.
Eric Pickles, Secretary of State for Communities and Local Government, said:
Draconian town hall parking policies and street clutter can make driving into town centres unnecessarily stressful and actually create more congestion because of lack of places to park. Anti-car measures are driving motorists into the arms of internet retailers and out of town superstores, taking their custom with them.

Trying to find somewhere to park has been an obstacle course in too many of our towns, cities and seaside resorts. Confusing and difficult car parking practices are undermining the economic vitality of the high street and tourist destinations. Over-zealous parking wardens have been inflicting real damage on local economies and given many towns and councils a bad name.

Town halls need to ditch their anti-car dogma. Making it easier to park will help support local shops, local jobs and tourism.
Further information
New guidance on parking
The Department for Communities and Local Government has been undertaking a review of planning practice guidance, seeking to consolidate the confusing and inaccessible 7,000 pages of guidance. A streamlined, web-based resource will be launched in "beta" test mode this week.
It will include new practice guidance on parking, including:
Guidance on design
The quality of parking in town centres is important; it should be convenient, safe and secure. Parking charges should be appropriate and not undermine the vitality of town centres and local shops, and parking enforcement should be proportionate.
Every element of the street scene contributes to the identity of the place, including for example lighting, railings, litter bins, paving, fountains and street furniture. These should be well designed and sensitively placed. Unnecessary clutter and physical constraints such as parking bollards and roads humps should be avoided. Streets and street junctions that are designed as public spaces (rather than just traffic routes) are likely to be more attractive for all users.
The quality of signage, including that for shops and other commercial premises, is important and can enhance identity and legibility. However, street clutter is a blight, as the excessive or insensitive use of traffic signs and other street furniture has a negative impact on the success of the street as a place. Street signs should be periodically audited with a view to identifying and removing unnecessary signs.
Parking solutions should be planned from the outset; there are many different approaches that can be taken to ensuring successful outcomes, such as on-street parking, courtyard parking, in-curtilage parking and basement parking. Natural surveillance of parked cars is also an important consideration. Car parking and service areas should be considered in context to ensure the most successful outcome can be delivered in each case.
Guidance on ensuring the vitality of town centres
Local planning authorities should assess and plan to meet the needs of main town centre uses in full, in broadly the same way as for their housing and economic needs, adopting a 'town centre first' approach and taking account of specific town centre policy to which this guidance relates.
This positive approach should include seeking to improve the quality of parking in town centres (in line with the National Planning Policy Framework) and, where it is necessary to ensure the vitality of town centres, the quantity too. Local planning authorities should set appropriate parking charges that do not undermine the vitality of town centres and parking enforcement should be proportionate, avoiding unfairly penalising drivers.
Guidance on Travel Plans, transport assessments and statements on decision making
Travel Plans are long-term management strategies for integrating proposals for sustainable travel into the planning process. They are based on evidence of the anticipated transport impacts of development and set measures to promote and encourage sustainable travel (such as promoting walking and cycling). They should not, however, be used as an excuse for unfairly penalising drivers and cutting provision for cars in a way that is unsustainable and could have negative impacts on the surrounding streets.
More parking helps support local shops
A recent report, entitled Re-think! Parking on the high street, produced by the Association of Town and City Management and the British Parking Association, says parking provision must be planned effectively to benefit towns and high streets, and is linked to vitality of the high street.
They note:
A number of factors have come together to create an almost perfect storm which prohibits access to traditional urban centres for car users… that fees are being introduced in areas where congestion is not an issue, or being raised to levels which stifle local trade. Concerns also surround the diversion of funds away from car parks, not allowing for the necessary reinvestment to take place (executive summary).
The mid-range and smaller groupings of centres that charge more than the national average in accordance with their offer, suffered a higher than average decline in footfall for 2011(p.5).
Car parking charges cannot be viewed one dimensionally as a simple revenue source for local authorities. If such charges damage the viability of a town centre it will have a knock on effect on the resources available to the authority (p.8).
Many local authorities have come to depend on car parking revenue for this purpose. In some locations, many people fear, the original rationale for parking management has been forgotten, and with it, the place of the car within a transport and accessibility strategy for town centres. Rigid enforcement policies, a lack of reinvestment in existing car parking provision, unwelcoming enforcement staff, the slow take up of new technology with more convenient payment methods and arbitrary pricing policies have all been cited as concerns across the UK (p.10).
Published 26 August 2013