Press release
Era of fundamental reform for public sector construction
Government is taking a long term approach to construction strategy, focusing on waste, transparency, technology and new procurement models.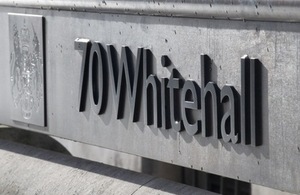 2 July 2012
CAB 061-12  
Speaking at the Government Construction Summit on Monday, Minister for the Cabinet Office Francis Maude will say that the construction sector is undergoing an "era of fundamental reform". Francis Maude will publish the government's "One Year On" report, highlighting progress made in reforming public sector construction and detailing £279 million in savings for taxpayers.
The government is taking a long term approach to construction strategy, with a relentless focus on waste, greater transparency on costs, new procurement models which foster collaboration and innovation, and smarter use of technology. It aims to deliver construction projects 15% to 20% more cheaply, saving up to £1.2 billion a year - the equivalent of approximately 60 new secondary schools -  to spend on other government projects.
The "One Year On" report highlights key progress over the year since the government's ambitious 5 year construction strategy was launched, including:
£279 million cost reductions achieved on new contracts and projects registered during 2011 to 2012
the beginning of a technological revolution, with the first public sector project delivered through Building Information Modelling now underway at Cookham Wood prison
strong relationships with industry, with over 120 private sector representatives playing an active role in implementing the strategy
increased transparency via regular publication of construction spending plans and project pipelines
prompt payment extended down to tier 3 suppliers via Project Bank Accounts for £1.1 billion worth of projects, which pay tier 3 suppliers at the same time as prime contractors
The report details key areas of focus for the coming years, with a fresh push on treatment of companies in the supply chain, including small and medium-sized enterprises (SMEs), and a new policy to tighten supplier performance management for key strategic suppliers.
Minister for the Cabinet Office Francis Maude said:
I'm proud of the progress that this government has made as we go through an era of fundamental reform in construction. Greater transparency means we now know how money is being spent and where we can find savings. Savings will come not from simply squeezing margins but by continuing to reform the way government procures and the industry responds, creating a more integrated, efficient sector.

We are working in partnership with industry every step of the way, but we will use our buying power as the industry's biggest client to insist on change, including the better treatment of the supply chain. Since January 2011 prompt payment is a condition of every government contract but we are going further in agreeing with our key suppliers how they will support their supply chains to deliver greater value.
The government's Chief Construction Adviser, Paul Morrell said
We continue to work steadily at a strategy that has 3 basic building blocks: improving the skills of government as a client, motivating reform in the way the construction industry works to deliver better value, and simplifying as far as the possible the processes by which government and industry deal with each other. The change will not come overnight; we are dealing with generations of ingrained practice; but just 1 year on I believe we are making real progress, both in the government's determination to see through this strategy and in the industry's response.
The government has published an updated list of 32 trial projects, including 12 new trial projects. The projects look at alternative approaches to procurement, including connecting design and construction to the occupation and use of the building through the "soft landings" approach, and crucially the adoption of Building Information Modelling.
Notes for editors
1. The One Year On report and other publications are available on GOV.UK.
2. A number of reports prepared by government/industry task groups will also be published on Monday, including:
procurement and "lean" Client;
standards and lean supply chain; and
a definition of excellence in construction, as the basis of future work to develop a performance management approach to construction suppliers.
3. The Procurement/Lean Client Task Group report includes "a guide to frameworks" for the construction sector, setting out the criteria that it believes distinguish the good from the bad. Characteristics of a good framework include:
work bundled in a way that does not take it out of reach of smaller businesses that would have been capable and competitive in taking on any individual project in the programme, unless they are also designed and managed to capture economies of scale and learning;
appropriate value bands, so that the upper value is not so high as to deter or disqualify SMEs from capturing work at lower values that they are perfectly capable of handling;
a prequalification process that is as lean as possible without criteria that are disproportionately high; and
opportunities for all companies, including SMEs in particular, advertised as widely as possible - for example on the government's Contracts Finder service.
4. Many of the recommendations contained in these reports have already been incorporated into the updated plans, but the government will respond to the task group reports in full in the autumn.
Published 2 July 2012