News story
Equal marriage law: Deputy Prime Minister's response
Deputy Prime Minister Nick Clegg celebrates the Marriage (Same Sex Couples) Bill receiving Royal Assent today.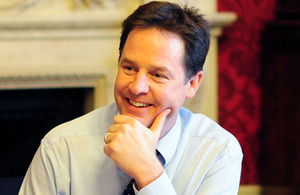 We've made it. The right to equal marriage is now a reality.
This reform sends out the strongest message yet about the kind of open, modern, tolerant and diverse society we want Britain to be in the 21st century. Civil partnerships were a landmark reform. And not every couple, gay or straight, feels that they need to get married to affirm their commitment to each other. But only the right to marry, if that's what you so choose, is true equality.
It lets every member of our LGBT community know that they are recognised and valued, not excluded. It finally ensures that all loving couples have the freedom and right to make that commitment to each other in our society.
That is why, as Deputy Prime Minister, I've been proud to support and fight for the right to equal marriage in this country. Congratulations to all those who made this reform happen. And good luck to everyone popping the question in the next few weeks and months.
Published 17 July 2013