Envoy on Post-Holocaust Issues submits report on Holocaust education in the UK
The UK Government's Envoy on Post-Holocaust Issues, Sir Andrew Burns, has submitted a report on Holocaust education in Britain to an intergovernmental body of 27 member states and representatives of international organisations.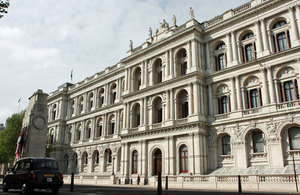 It is the first time that any International Task Force for International Cooperation on Holocaust Education, Remembrance and Research (ITF) member state has revised, updated and resubmitted its Country Report. This is evidence of the UK's world leading position in research into the challenges and opportunities of teaching this complex and emotionally-charged subject in the school classroom.
The report dispels common myths and misconceptions about the status of and challenges to teaching about the Holocaust in the UK; provides research-informed and accurate detail of the wide ranging work of organisations in the field; and presents key challenges and opportunities for developing and improving the quality of teaching and learning about the Holocaust in our schools. Read the UK Country Report on Holocaust Education 2010.
The report has been made possible by national research conducted by the Institute of Education (IOE), University of London, and by contributions from organisations working in the field of Holocaust education.
Minister for Schools Nick Gibb said:
"I welcome the updated report on Holocaust education in the UK, which reflects the wide range of work being undertaken by both NGOs and teachers. The Government believes that every young person should learn about these catastrophic events that took place in the heart of Europe, and that they should be able to reflect upon its lasting legacy. The report also clearly dispels the myth that Holocaust education has been removed from the National Curriculum; the teaching of the Holocaust is a compulsory part of the National Curriculum in England, as it has been since 1991, and I would certainly expect any future programme of study for history to continue to include Holocaust education."
Sir Andrew Burns said:
"As a founding member of the Task Force for International Cooperation on Holocaust Education, Remembrance and Research I am delighted that the UK is taking leadership in reviewing and updating our country report on Holocaust education. The revised report reflects the determination of educators and others in the UK to ensuring the Holocaust remains at the forefront of our collective memory. I encourage all ITF member countries to review their own efforts in this regard and to demonstrate their continued commitment to the Stockholm Declaration and the founding principles of the ITF."
Published 15 December 2010